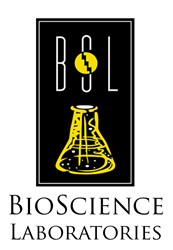 Bozeman, MT (PRWEB) August 27, 2013
In response to the Avian Influenza A (H7N9) virus outbreak that occurred earlier last spring, infecting over 130 people and killing over 40 people, BioScience Laboratories, Inc. (BSLI) has been approved for testing the virus. There are only a limited number of testing labs that can safely house and handle H7N9.
Why is it important to ensure products are proven effective and efficacious against Influenza A Virus H7N9?
H7N9 AKA "Birdflu" is an influenza virus, which is sometimes found in birds but normally not in humans. Currently, there has been no report of human-to-human transmission of this strain, however the virus may acquire additional genes from human influenza viruses resulting in a virus that would spread from human-to-human. This type of reassortment has happened before, during co-infection of a single host, as evidenced by the influenza pandemics of 1918, 1957, 1968 and 2009. Although it is unknown whether this will occur, precautions must be taken, as the severity of illness and potential death associated with this virus is high.
In the case of a pandemic it is extremely important that safe guards are created and set in place against this lethal virus. Companies spanning the public consumer industry, healthcare industry, and food-handling industry should look to prove that their products are effective and efficacious against H7N9.
About BioScience Laboratories, Inc.
Recognized as the leading authority in antimicrobial testing, BSLI is an independent testing lab that has been serving the healthcare, pharmaceutical, and personal care industries since 1991. Defined by Quality, Service, and Innovation, BSLI assists their clients in bringing new products to market and strengthening their current market positions.
Their state-of-the-art BSL-3 laboratory allows them to safely test microbial agents like bacteria, fungi, and viruses that may cause serious disease or potentially even lethal disease. They are now working with antiviral drug manufacturers to test formulation efficacy against this new strain of Influenza H7N9.
For more information, price quotes, any other questions or concerns, please use the contact links at the top right.