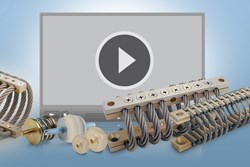 AAC to be Featured on FOX Business Network
Boca Raton, FL (PRWEB) August 30, 2013
Multi-Media Productions (USA), Inc. is pleased to announce that Advanced Antivibration Components will be featured on 21st Century Business.
Advanced Antivibration Components (AAC) is a global supplier of vibration and shock protection solutions to Medical, Electronics, HVAC, Industrial, Construction, Agricultural, Oil & Gas, Aerospace and Defense, Transportation and Packaging Industries.
As electronics continue to evolve, thermal management has become a major challenge in portable devices such as notebook computer, tablets, cellular phones, and cameras, which are constrained by size and energy consumption. To address this issue, AAC introduces its Silicone Thermal Gel Products for heat dissipation.
With over 8000 products in its portfolio, we provide free catalogs and 3-D CAD model files, online eStore with pricing and availability, custom designs and engineering support. We carry the largest selection of cylindrical mounts, base mounts, suspension mounts, bushings, springs, pads and bumpers, in a wide range of materials such as stainless steel mesh and springs, silicone gel, neoprene, rubber and Sorbothane®. Many are suitable for use in extreme environmental conditions.
JL Haber, Vice President of Programming at Multi Media Productions, added, "As an innovator and a leader in the industry, Advanced Antivibration Components is a natural fit for our show. We are excited to have them as a guest on our program."
For more information and a free catalog go to http://www.vibrationmounts.com.
Click link for airing schedule: http://www.21cbtv.com/clearance-report/21cb2449-fbn.pdf
About 21st Century Business
21st Century Business is an award winning targeted business show that is independently produced by Multi-Media Productions. The show provides its business viewers an in depth opportunity to find solutions to the industry problems from some of the top business leaders from across the world. Each exclusive segment is taped in our state of the art South Florida Studio.
Once selected, companies are able to present their story and solutions to industry problems in an exclusive way that sets their company apart from the others. With more than 6,000 companies participating on over 600 shows, 21st Century Business continues to be the premier and targeted outlet for the latest business stories.
21st Century Business airs on various national cable networks that are viewed by over 100 million viewers nationwide as well as internationally via DirecTV and Dish Network. The show can also be viewed through video on demand via http://www.21cbtv.com. The 21CBTV Series is also available at more than 27 prestigious college universities, including Carnegie Mellon University, Howard University, Dartmouth College and Georgetown University.
For specific market-by-market air dates and times, please e-mail Moniqueh(at)mmpusa(dot)com. For more information, please visit http://www.21cbtv.com.