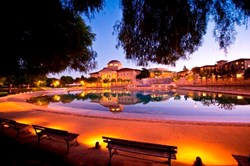 A semester of study abroad...is included in tuition.
Aliso Viejo, CA (PRWEB) August 25, 2013
Junior and Senior high school students and their families are invited to attend Soka University's annual Lions Roar Student Campus Days on October 19th or November 9th. Lions Roar runs from 9 am – 3 pm and includes guided campus walking tours, a chance to talk to faculty and students, workshops on financial aid, and a free lunch at the Soka Bistro.
Register online at http://www.soka.edu/lionsroar . Questions can be answered by emailing admission(at)soka(dot)edu or by calling 949.490.4150.
Soka University is located at 1 University Drive, Aliso Viejo at the intersection of Wood Canyon Drive and University. For a map and driving directions see http://www.soka.edu/directions .
Soka University, Aliso Viejo is a private, non-profit, four-year liberal arts college and graduate program SUA offers a 9:1 student/faculty ratio and an average class size of 12. SUA was rated in the Top 50 National Liberal Arts Colleges in US News and World Report's "Best Colleges 2013." All undergraduate students participate in a semester of study abroad during their junior year which is included in the tuition. Free tuition is available to eligible admitted students whose annual earned family income is $60,000 or less. The university is open to top students of all nationalities and beliefs and was founded upon the Buddhist principles of peace, human rights and the sanctity of life. About 60% of SUA's students come from the US and 40% have come from 40 other countries. For more information: http://www.soka.edu .