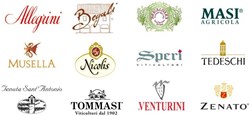 New York, New York (PRWEB) August 29, 2013
The Association of Amarone Families, which represents the 12 most historical and celebrated producers of this prestigious wine from Italy, will be coming to the United States this year with stops in Washington, DC and Boston. This is the 4th US tour of Amarone Families and their first time in those two cities. The goal of the association is to raise the awareness and maintain the reputation of Amarone as one of the finest red wines from Italy among trade and press in the United States.
Events in both cities will include a vertical tasting of select Amarone vintages guided by acknowledged wine educators, Geralyn Brostrom, CWE, in Washington, DC and Bill Nesto, MW in Boston. A walk-around tasting in both cities will give members of the local trade and press the opportunity to meet Amarone Family producers while tasting each producers' current vintage.
The Italian Embassy in Washington, DC will host the Amarone Families' events on October 1st. The Grand Tasting in Boston will be at the Italian Consulate on October 2nd, while the guided seminar will take the place at Boston Symphony Hall the following day.
The mission of the Amarone Families association is to educate trade and consumers about the tradition and quality of this celebrated Italian wine, which recently received the prestigious DOCG appellation, given only to the best wines of Italy.
To register for the events please visit:
Washington, DC: http://amaronefamiliesdc.eventbrite.com/
Boston: http://amaronefamiliesboston-es2.eventbrite.com
About Amarone Families
Twelve historical producers of the celebrated Amarone wine (Allegrini, Begali, Brigaldara, Masi, Musella, Nicolis, Speri, Tedeschi, Tenuta Sant'Antonio, Tommasi, Venturini, Zenato) joined in the association "Amarone Families" in 2009, combining their rich tradition with exceptional craftsmanship and standards in winemaking.
The association's goal, forged among the producers located on the green hills of the Valpolicella area just outside Verona, in the Veneto region of Italy, is to promote the tradition and quality of Amarone, one of the finest Italian reds, to international markets. Visit us at http://www.amaronefamilies.it.