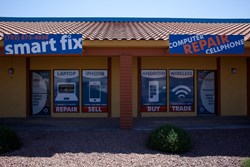 Pickup and delivery of smartphone & device repair now available to the Las Vegas Strip.
Las Vegas, Nevada (PRWEB) August 25, 2013
In the modern world, you would have to search far and wide to find a person not using a smartphone, tablet or other mobile devices. The smartphone age actually created a cottage industry repairing and servicing these devices. Two entrepreneurs Eytan Klepach and Mike Bozorgi, the owners of Smart Fix a Las Vegas, NV based business have been meeting the demand for smartphone and device repair for the past 4 years. In that time, Smart Fix has repaired more than 9,000 broken phones, tablets and other mobile devices. Once a single iPhone repair shop next to the world famous Las Vegas Strip, they have expanded to 3 locations in the Las Vegas valley and a thriving smartphone & tablet replacement parts wholesale business that supplies repair businesses nationwide.
Mike Bozorgi tells us that in the past year they have seen a significant increase of cellphone and tablet repair needs around the strip; most clients are tourists visiting Las Vegas for only a few days. Most clients are not familiar with the city and many have requested pickup and delivery service to their hotels. As a result Smart Fix has decided to mobilize and offer this unique service to the hotel and resorts in the Las Vegas strip. This service will be available to all major hotels and resorts such as Wynn Hotel, MGM, Mirage, Treasure Island, Bellagio, The Venetian, Casers Palace, Paris Hotel, City Center, Aria, and the Cosmopolitan. This service will allow clients to enjoy their time in Las Vegas without leaving their resorts while the repair is in progress.
Smart Fix specializes in all types of device repairs such as cracked screens, LCD replacement, water damage repairs, speaker repairs, prepaid plans and activations, phone unlocks and even color conversions on all iPhones, iPad, iPod, on Samsung galaxy devices, HTC and android devices.
So while in Las Vegas if you damage your smartphone, tablet or laptop call Smart Fix at 702-875-4050 or visit SmartFixLV.com and they can arrange a pick and delivery for your device repair needs.