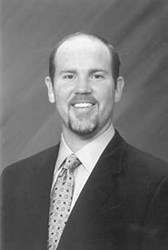 Lafayette, LA (PRWEB) August 24, 2013
Dr. James Finley and his team at Finley Periodontics has joined the ranks of a leading group of dental professionals who are now certified in the latest gum disease treatment. Known as the Laser Assisted New Attachment Procedure (LANAP), this laser gum surgery has been proven to treat gum disease and to help stimulate the growth of new gum tissue and bone.
Traditional methods of treating periodontal disease required patients to endure the literal cutting away of gum tissue. If enough gum tissue was removed, patients' ability to keep their own teeth in the affected area was reduced. With LANAP, patients can achieve healthy gums without this negative impact. This new gum disease treatment is also much faster and can be completed in less time than scalpel surgeries.
LANAP laser gum surgery targets the diseased area only and does not remove or affect any healthy gum tissue. A mild local anesthetic is all that is required, making recovery much easier. Minimal gum tissue is lost, improving the chance of retaining one's own teeth. In the event that a tooth is lost, having sufficient gum tissue remaining makes the successful placement of dental implants more possible.
During a LANAP gum disease treatment, the laser that is used not only eradicates diseased gum tissue but also stimulates the gum and nearby bone. This helps to protect the future health of these oral components, which are critical to preventing tooth loss or jaw misalignment over time.
With known advantages such as minimal discomfort, fast process and positive results, Dr. Finley has adopted the use of this new laser gum surgery. Periodontal patients with gum disease who want to learn about eliminating infected tissue and helping to maintain strong dental health should contact Finley Periodontics today.
About The Doctor
Finley Periodontics is a periodontal practice offering personalized dental care for patients in Lafayette, LA. The practice emphasizes the importance of a stress free dental experience and offers sedation to almost everyone they treat. Dr. James M. Finley received his D.M.D from the University of Mississippi School of Dentistry and his certificate in Periodontics from Louisiana State University School of Dentistry. He went on to earn his M.S. in oral biology from Louisiana State University while serving as a full time assistant professor. Dr. Finley is part of one percent of dental professionals providing the only FDA cleared laser procedure for gum disease and periodontal treatment. To learn more about Finley Periodontics and their dental services visit their website at http://www.finleyperio.com and call (337) 504-7263.