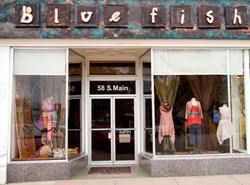 "We're thrilled to have come this far," says Jennifer Barclay
FAIRFIELD, Iowa (PRWEB) August 24, 2013
Blue Fish also has recent awards and nominations to celebrate. In 2012, the Fairfield Chamber of Commerce honored Blue Fish Clothing with the Best New Business award. This year, Blue Fish Clothing is a finalist for Green America's 2013 "People & Planet Award".
"We're thrilled to have come this far," says Jennifer Barclay, Blue Fish Founder and Designer. "Blue Fish began as a dream, a desire to make the world a more beautiful, environmentally friendly place, one gorgeous article of clothing at a time. It's an honor to have spent nearly thirty years offering women comfortable, artful styles to express their individuality."
Made for women, by women, Blue Fish Clothing offers creative, handcrafted styles buyers won't find on the racks in traditional clothing stores. The creative process starts with hand-drawn sketches, and moves to the design studio, where a team of artists and designers craft each piece by hand. Every garment—from shirts and scarves to skirts, tank tops, blouses, and dresses—is created using organic fabrics and dyes, in keeping with the company's mission to maintain the highest ecological standards. All Blue Fish clothing is designed and made in the USA.
One of the unique appeals of the Blue Fish clothing line is that the pieces are all designed to compliment one another, enabling customers to layer, mix and match, and build and customize their own collection. For these many reasons, Blue Fish has a loyal following throughout the US, comprised of women who appreciate the comfort, beauty and versatility of their styles—which are design to suit all ages, shapes and body types.
"Blue Fish has a special something that other clothing does not," says Jenny, a customer from Hawaii. "It is the 'mana,' or spiritual energy, that comes from the artists and designers who put so much of themselves into the pieces. Wearing Blue Fish makes you feel nurtured, and the organic fibers assure you that you won't have an allergic reaction to some strange synthetic material or chemicals.  Blue Fish is also very flattering for all sizes."
Blue Fish Clothing has three store locations: the headquarter facility in Fairfield, IA; the flagship store in Frenchtown, NJ; and a store in Taos, NM. The Fairfield store celebrates its one-year anniversary this summer, and has found a special home in the small, progressive town—which is home to an eclectic, international community that was featured on OWN (the Oprah Winfrey Network), boasts an Eco-Village, and is home to Maharishi University of Management.
To learn more about Blue Fish, visit http://www.bluefishclothing.com