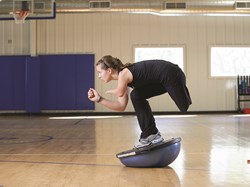 I can't wait to race and put everything to the test!
Harding, PA (PRWEB) August 24, 2013
U.S. Paralympics, a division of the United States Olympic Committee, has named Stephanie Jallen to the 2013-2014 U.S. Paralympics Alpine Skiing National Team. She kicked off her World Cup Season August 22 at the International Paralympic Committee Alpine Slalom World Cup in Coronet Peak, New Zealand. The competition is part of the third edition of the Winter Games New Zealand, an international biennial winter sports event based in Otago. Stephanie is currently in New Zealand, preparing for the competition.
Next, Stephanie will travel to Australia to compete in the 2013 IPC Alpine Skiing World Cup. This prestigious competition will be held September 2-6, in Thredbo where the world's best paralympic skiers will vie for victory in the Slalom and Giant Slalom. Hosted by the Australian Paralympic Committee in conjunction with the IPC and Kosciuszko Thredbo Ski Resort, the event enables participants to earn IPCAS points toward qualification for the Sochi 2014 Paralympic Winter Games. At the Games, physically challenged athletes from around the world will compete, while overcoming their disabilities, in the spirit of the Olympic Games. The Paralympic Games are held parallel to the traditional Olympic Games, at the same time, in the same venue. A maximum of 692 athletes will compete in 72 medal events, 32 of which will be in Alpine Skiing, Stephanie's event of choice.
Stephanie suffers from a birth defect, Congenital Hemidysplasia with Ichthyosis and Limb Defects (CHILD) Syndrome. A rare disorder, with only 60 cases recorded worldwide, CHILD Syndrome results in one half of the body being underdeveloped, with skin issues creating additional complications. In Stephanie's case, her entire left side is affected. Her left leg was amputated when she was an infant and she has a shortened left arm that tapers to a single digit. Stephanie's positive attitude has played an important role in her personal development, both as a young woman and as an accomplished athlete. Of the World Cup events, she says, "I can't wait to race and put everything to the test!"
The Stephanie Jallen Paralympic Fund, Inc. was established to help Stephanie reach her goal to compete in the 2014 Paralympic Games, and help other physically disabled individuals achieve a better quality of life by pursuing athletic careers. More information is available at http://www.stephaniejallen.org.