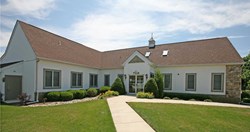 Yardley, PA (PRWEB) August 25, 2013
Yardley, PA periodontist Dr. Edward Marcus now offers the Laser Assisted New Attachment Procedure, a gum disease treatment alternative that controls periodontal disease and helps to prevent tooth and bone loss using advanced laser technology. Unlike invasive traditional surgery where doctors remove the infection with a scalpel, LANAP® vaporizes bacteria using the PerioLase® MVP-7™, the only FDA cleared laser for the treatment of gum disease on the market.
In addition to controlling the infection caused by periodontal disease, the PerioLase® MVP-7™ also stimulates the supporting jawbone, which has the potential to regenerate lost bone attachment and helps prevent further bone deterioration and tooth loss.
Patients who postpone seeking gum disease treatment may face a variety of complications resulting from subsequent bone and tooth loss. The lack of enough teeth to support the biting pressures combined with the deterioration of the supporting bone can cause tooth misalignment. This situation can dramatically change a patient's bite pattern, further accelerating their dental deterioration. Since the teeth act as a natural support system for the cheeks and lips, missing teeth can also prompt facial deformities. Oftentimes, the face will take on a "sunken-in" look, which can dramatically alter a person's appearance.
LANAP® is highly effective, minimally invasive, and usually allows doctors to save patients' natural teeth. To learn more about laser gum surgery and preventing bone loss in Bucks County, PA, please call Floral Vale Periodontics & Implants to schedule a consultation with Dr. Marcus today.
About the Practice
Floral Vale Periodontics & Implants, P.C., is a periodontal practice offering personalized dental care for Bucks County area gum disease patients in Pennsylvania. Dr. Marcus received his undergraduate and dental education at Temple University where he graduated ranking first in his class. His post-doctoral training in Periodontics and Fixed Prosthodontics was completed at Temple University School of Dentistry. Dr. Marcus is one of only a handful of dental professionals in the United States that holds American Dental Association accredited specialty certification in both Periodontics and Prosthodontics. Dr. Marcus has many years of experience in dentistry, and is part of one percent of dental professionals providing the most recent FDA cleared laser procedure for gum disease and periodontal treatment. To learn more about Dr. Edward A. Marcus and his dental services, visit his website at http://www.mercerbucksperiodontist.com and call (215) 600-4962.