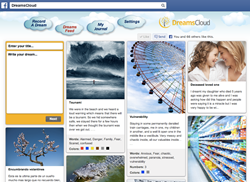 Now our fans can easily – and socially – record and share their dreams without leaving Facebook
Sterling, VA (PRWEB) August 27, 2013
Dreams Cloud, the most comprehensive resource on dreams and dreaming on the web, mobile and social media, has launched a version of its unique dream logging and sharing app for Facebook. Facebook users around the globe can read and comment on other people's dreams, share their own dreams and get personalized reflections on possible dream meanings.
The dream logging Facebook app provides a fun, social way for users to connect to one another through their dreams. It features a highly visual Dreams Feed display, where users can scroll the latest posted dreams illustrated by images chosen by the dreamer. Users can click on any dream to provide their own reflection on the dream and can easily record their own dreams and select an image to illustrate it. Users can choose to share their dreams with friends by posting on their own walls, or can post privately under an anonymous display name.
The app integrates seamlessly with the Dreams Cloud website and with free Dreams Cloud apps for Android, iPhone, Blackberry and Windows Phone 8. Whenever a user logs into the Facebook app, he or she can access via browser or mobile device and vice versa. Dreams entered into any device become part of a user's secure dream journal, allowing dreamers to record, track and revisit their dreams over the course of a lifetime.
"We have a quarter of a million followers in Facebook and they regularly share their dreams on the page and ask for our advice," said Matt N Tabrizi, CEO of Dreams Cloud parent company DBI. "So it was natural to bring this app to Facebook. Now our fans can easily – and socially – record their dreams and get the answers they seek all within the familiar environment of Facebook," added Mr. Tabrizi.
For users who wish to more deeply explore dreams and the meaning of dreams, the Dreams Cloud website offers additional resources including expert content in the form of blogs, common dream themes, dream symbols and videos.
About Dreams Cloud
Dreams Cloud, a subsidiary of Dreams Book Inc. (DBI), is a global resource which specializes in gathering, saving, and tabulating a statistical compilation of dreams. The website provides its members with tools to log their dreams, create dream journals, save them privately or share them publicly or anonymously, and receive personalized reflections on their dreams. The goal of Dreams Cloud is to better its members' lives and those of the public through its efforts. To learn more about Dreams Cloud, please visit http://www.dreamscloud.com.