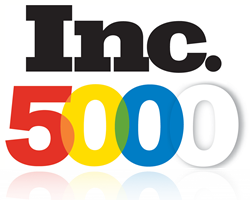 Location3 has enjoyed a 77 percent increase in revenue over the past three years.
Denver, CO (PRWEB) August 27, 2013
Continuing its impressive trend of steady company growth, Denver-based digital marketing agency Location3 Media has landed on the Inc. 5000 List of fastest-growing private companies in America for the seventh year in a row. Ranking at #3750 in this exclusive club for 2013, Location3 has enjoyed a 77 percent increase in revenue over the past three years and currently boasts a full time staff of 85 employees. This year's Inc. 5000 list was more difficult to get into than ever before in its incredible 32-year history, as the median company on the overall list increased sales by more than 140 percent since the beginning of 2010. In addition, the average honoree on the 2013 list grew by an astounding 468 percent.
"We're extremely proud to be honored once again by Inc. Magazine in 2013. We remain committed to ensuring that our clients and our employees are our chief priorities, and recognition like the Inc. 5000 List serves as validation of our constant desire to improve efforts on both fronts" said Alex Porter, President of Location3 Media.
Location3 Media once again joins an impressive group that includes companies such as Intuit, Zappos, Microsoft, Under Armour, Timberland, Oracle and Patagonia in achieving the Inc. 5000 list distinction this year. Specializing in providing digital marketing strategy and solutions to both national and local brands, Location3 employees possess a relentless drive to take apart what works and rebuild what excels in client campaigns, allowing the agency to produce dramatic, exponential growth for clients.
For more information about Location3 Media contact Josh Allen: jallen(at)location3(dot)com | 720.763.3151
About Location3 Media:
Location3 is a digital marketing partner built to improve the findability and performance of consumer and multi-unit retail brands through enterprise-level and local digital marketing solutions. Founded in 1999 and located in the heart of Denver, Location3 has a staff of 85 full-time employees who service global, national and local brands. More than half of Location3's client base has worked with the agency for at least three years, as Location3 improves the findability and performance of every client they partner with.