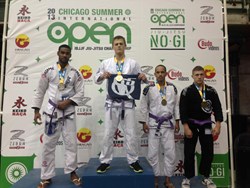 "To come out here after two months and take gold against some seasoned purple belts is quite the accomplishment. "

- Julius Park
Baltimore, MD (PRWEB) August 29, 2013
On August 17, several members of the Crazy 88 Brazilian Jiu-Jitsu competition team fought in the Chicago International Open with Devon Delbrugge taking Gold in both of his Gi and No Gi divisions.
Brazilian Jiu-Jitsu is a grappling sport similar to wrestling that utilizes Judo take downs as well as submissions. There are two variations with one being Gi (with the uniform) and the other being No Gi (without the uniform).
Currently the largest governing body of the sport is the International Brazilian Jiu-Jitsu Federation (IBJJF). They host some of the most prestigious tournaments and championships around the world for the sport. August 17 and 18 marked the IBJJF Chicago Open for both Gi and No Gi.
After taking Gold in his division and Silver in the Absolute at the 2013 IBJJF World Championships, Crazy 88 competitor, Devon Delbrugge was promoted to the rank of Purple belt.
In two months since being promoted Delbrugge took Gold in Purple belt Middle Gi and Gold in Purple belt Medium Heavy No Gi. Head Instructor, Julius Park said, "Devon fought hard and earned that promotion. To come out here after two months and take gold against some seasoned purple belts is quite the accomplishment. He works hard and we look forward to seeing what he will do this season."
To find out more about the competitors and events at Crazy 88 - Elkridge visit http://www.BaltimoreMixedMartialArts.com or call (443) 283-1450. To learn more about Crazy 88 - Owings Mills visit http://www.Baltimore-MMA.com or call (410) 999-1064.