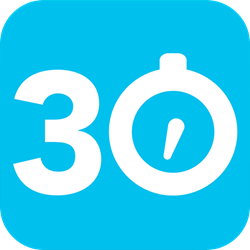 We are excited to first help the community of creatives, not only show their work but also tell their story and we look forward to ultimately revolutionizing the way people present what they do. James Kaiser, CEO, 30 Second Showcase Inc
Clifton, NJ (PRWEB) August 27, 2013
30 Second Showcase announces the release its mobile application, 30 Second Showcase, on iOS. This innovative application marries the traditional elevator pitch with images to generate a rich visualization of creative work tailored for every conversation. Allowing users to create custom micro-portfolios or "showcases", creatives are able to truly highlight their unique abilities in ways previous methods have not allowed.
"We are excited to first help the community of creatives, not only show their work but also tell their story," said James Kaiser, CEO, 30 Second Showcase Inc, "and we look forward to ultimately revolutionizing the way people present what they do."
Showcases allow the use pictures, titles, and descriptions. Once created the showcase can be pulled up on a smartphone during the initial interaction as well as sent out via email or social networks as a follow up.
Creating a showcase allows a user to dive into a distinguishable niche, ultimately allowing them to market themselves as an expert in their field. In a one-size-does-not-fit-all market, tailoring a portfolio to each prospective client becomes a vital form of effective promotion. The application can currently be downloaded on iOS at http://www.get30ss.com, or by searching "30SS" in the iOS App Store.
About 30 Second Showcase Inc: 30 Second Showcase Inc. is the creator of the mobile application 30 Second Showcase, a tool for creating one-page micro portfolios from your iOS device. 30 Second Showcase Inc. provides the most innovative ways for creatives and others to display their work, and is continuing to evolve into a flexible platform for all people to showcase their very best. 30 Second Showcase is a proud member of TechLaunch, New Jersey's premiere accelerator program. To create your first showcase or learn more visit http://www.30secondshowcase.com.
About TechLaunch: TechLaunch was created in 2011 to drive the commercialization of emerging technology created by aspiring entrepreneurs. It was formed in collaboration with Casabona Ventures (CasabonaVentures.com), Jumpstart New Jersey Angel Network (JumpstartNJ.com), NJ Economic Development Authority (EDA) (njeda.com), and successful entrepreneurs. TechLaunch provides a select group of emerging technology ventures with seed-stage funding, access to over 100 qualified mentors, business training, co-working space, key business services and exposure to qualified investors, through a proven 16-week business bootcamp (LaunchPad) program. The program culminates on Demo Day with Investor pitches and demonstrations of the developed products. To learn more please visit techlaunch.com. Any media inquiries should be directed to Norma(at)TechLaunch(dot)com.