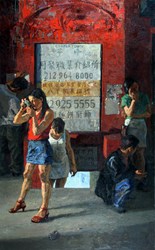 Themes taken from contemporary urban life
Aliso Viejo, CA (PRWEB) August 27, 2013
48 paintings and drawing by Yu Ji will be featured at his solo art exhibition from September 9 – October 31, 2013 at Soka University's Founders Hall Art Gallery. The Opening Reception will be on Thursday, October 3rd from 5:30 to 8:00 pm.
The exhibition, seen for the first time in Orange County, is entitled "Moments Unchained" and presents themes taken from contemporary urban life, with human figures depicted in racially mixed groups within a confined picture space.
"My goal in painting is to build a visual dialog on shared experiences through the relationship between the view, the artwork, and observed realities," explains Yu Ji, a studio painter residing in Long Beach, CA. A native of China, he grew up during the dark days of Mao's Cultural Revolution in the 1960's and was fortunate to receive his first art lessons in private from several top Chinese artists. At the end of Mao's era, he entered the Central Academy of Fine Art.
Yu Ji earned his MFAs in both painting and in printmaking from State University of New York at New Paltz in 1986 and 1989. He has exhibited across the country in New York, Chicago, Philadelphia, Kansas City, and Los Angeles. His portrait of Sir James Mirrlees, winner of the 1996 Nobel Memorial Prize in Economic Sciences, is included in the permanent collection of the National Portrait Gallery in Scotland. He has also exhibited his work in Beijing, Tianjin and Guangzhou.
Yu Ji has taught at Southern Utah University and Eastern Illinois University. He is currently a Professor in Life Drawing and Painting at California State University, Long Beach.
Soka University's Founders Hall Art Gallery is located at 1 University Drive, Aliso Viejo at the intersection of Wood Canyon Drive and University. For a map and driving directions, see http://www.soka.edu/directions.
Soka University, Aliso Viejo is a private, non-profit, four-year liberal arts college and graduate school which offers a 9:1 student/faculty ratio and an average class size of 12. SUA was rated in the Top 50 National Liberal Arts Colleges in US News and World Report's "Best Colleges 2013". All undergraduate students participate in a semester of study abroad during their junior year, which is included in the tuition. Free tuition is available to eligible admitted BA students whose annual earned family income is $60,000 or less. The university is open to top students of all nationalities and beliefs and was founded upon the Buddhist principles of peace, human rights and the sanctity of life. About 60% of SUA's students come from the US and 40% have come from 40 other countries. For more information: http://www.soka.edu.
###