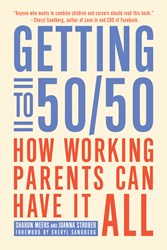 'Don't believe the myths about women and work—this advice will benefit you now and in the future.'
—Sheryl Sandberg, author of the #1 New York Times bestseller Lean In
(PRWEB) August 24, 2013
Sharon Meers and Joanna Strober are two working moms who believe that everyone wins when men are full parents and women have full careers. They know that families thrive not in spite of working mothers, but because of them. With in-depth interviews with hundreds of employers from various sectors, input from over a thousand working mothers, and the latest government and social science statistics, Getting to 50/50: How Working Parents Can Have It All presents incontrovertible proof that kids, husbands, and wives all reap exceptional rewards when a couple commits to sharing – equally – as breadwinners and caregivers.
"We have a long way to go before we achieve equality," writes Facebook COO Sheryl Sandberg, in a thought-provoking and praise-filled foreword. "50/50 is not just the fair thing to do, but the better thing to do for a family."
Along with the book's release in October, the Wall Street Journal will launch a career advice column featuring authors Sharon Meers and Joanna Strober. Readers will be able to write in and ask for advice with specific problems with juggling work and family. Also in October, Sheryl Sandberg, forwordist and COO of Facebook, will run one excerpt a week on her website LeanIn.org from Getting to 50/50.
About the Authors:
Sharon Meers leads global business development and sales for X.commerce, the open commerce platform of eBay, helping merchants grow with better technology. Formerly, Meers was a managing director at Goldman Sachs, where she worked for 16 years and was co-chair of the Women's Network in the Investment Management Division. She and her husband founded the Partners for Parity at Stanford Business School and the Dual-Career Initiative at Harvard.
Joanna Strober is Managing Director of a fund investing in private partnerships at Sterling Stamos, an investment firm in Silicon Valley and the founder of the "working stiffs" mom's group. As one of the few females in private equity in Silicon Valley, Strober has been featured in the front page of the Wall Street Journal for launching several well-known companies.
Sheryl Sandberg is chief operating officer at Facebook. Prior to Facebook, she was vice president of Global Online Sales and Operations at Google and chief of staff at the U.S. Treasury Department. Sheryl lives in Menlo Park, CA, with her husband and their two children.