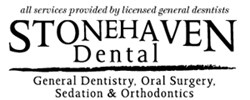 Salt Lake City, Utah (PRWEB) August 25, 2013
Stonehaven is one of the premier providers of family dental in Salt Lake City, specializing in sedation dentistry and family procedures. The staff at Stonehaven Dental has gained a reputation for being the most reliable in sedation dentistry. Their offices have proven their commitment to the comfort and safety of their patients, offering sedation as a safe and comfortable alternative for dental patients who have anxiety, gag reflex, limited jaw opening or for those who have difficulty getting completely numb. Sedation dentistry is especially helpful for young children and those who need extensive surgical or restorative procedures, such as root canals in UT. Utilizing all the latest technology, their sedation techniques are safe and effective.
The Stonehaven dentists in Utah sit down to discuss with their patients the sedation options and the specific coverage different dental insurance provides. Although coverage varies, most insurance policies cover sedation under certain circumstances. Stonehaven helps their clients understand their sedation options in a stress-free private consultation that will make the entire experience less anxious.
Imagine sleeping through a dentist appointment, completely unaware of the work that is being done or any pain that would be a result. Stonehaven, utilizing the latest technology in sedation now offers sleeping Nitrous. Being asleep will help anxious patients feel calm and completely avoid the stress of being awake and aware of what is going on during their procedure. It's also beneficial for the staff, as the patient won't panic and move unexpectedly.
Finding a reliable specialist for root canals in UT can be overwhelming with all of the dentists in Utah from which to choose. Specializing in family dental in Salt Lake City, Stonehaven seems to understand that for extensive surgical procedures, patients need someone who will listen and understand their specific worries and needs. Offering sedation is one option that the staff at Stonehaven utilizes to alleviate worries and improve the overall patient experience.
Stonehaven offers a full range of services, including sedation dentistry, cosmetic dentistry, oral surgery, implants, dentures, pediatric dentistry and root canals in UT. If a patient is looking for someone who specializes in family preventative procedures, Stonehaven has the options and the experts for a great experience. When it comes to family dental in Salt Lake City, Stonehaven offers options that work for adults and children. For more information about their services, or to fill out a new patient form, visit their website at http://www.stonehavendental.com.