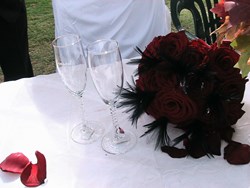 The Red Pin Cushion Protea looks like its namesake – a pincushion stuck full of pins sitting atop a tall and leafy stem, it's magnificent and disturbing at the same time.
Boise, ID (PRWEB) August 27, 2013
FiftyFlowers.com, a wholesale flower resource, loves the fall wedding season -- beautiful red and golden leaves scatter over the ground, bright orange, red and yellow colors take center stage and outdoor weddings abound in the early fall air; it is simply a gorgeous time of year for a wedding. It is also the time of year when many fun, funky and one of a kind flowers or greens become available and innovative Halloween weddings make their annual appearance. FiftyFlowers has outlined some of the creepiest focal and filler flowers available for this unique look and include some tricks on combining them into the perfect Halloween bouquet.
Start off with a classic focal flower like the rose but look for deep dark red roses, tinted black roses or crimson blood red roses to take center stage in a Halloween bouquet. Try varieties like Black Magic and Black Bacarra for a deep red or varieties like Sexy Red and First Red for a blood-red appearance. If roses aren't your idea of a hauntingly dark bouquet, go for a single stem of a large focal flower such as the White Protea or Red Pin Cushion Protea whose sturdy blooms would make a poignant center to a hair-raising bouquet. The White Protea features a fuzzy white bloom with black tips; its mysterious and hair-like 'petals' appear to be concealing a deep, dark secret within the large bloom. The Red Pin Cushion Protea looks like its namesake – a pincushion stuck full of pins sitting atop a tall and leafy stem, it's magnificent and disturbing at the same time.
Once the right focal flower is in place the bouquet can be filled in with a variety of unique filler flowers. Add texture with Veronica available in six different colors including a deep purplish-blue or a shocking hot pink. When tucked into the bouquet, the slithering tips of Veronica will poke out adding depth and snake-like charm. Or add a touch of brain with Celosia Flowers; the fan-shaped velvety tips of this distinctive flower are formed into clusters that look like the gray matter of a brain, making them the perfect addition to a Halloween bouquet. The long thin petals of Spider Mums add a creepiness that seems to be crawling right out of the bouquet. And it is hard to resist the sad, drooping petals of Burgundy Black Scabiosa a flower that looks like its crying for help. The petals appear in patches, leaving barren areas, and the petals that manage to cling awkwardly on tend to bend downward away from the fuzzy center creating a forlorn looking flower perfect for Halloween.
Wrap the outside of the bouquet with greenery such as Hanging Amaranthus to add a wilted look – these flowers naturally 'hang' and appear wilted even though they are fresh cut and healthy. Then, tuck in some Blackish Purple Tinted Sage to keep things dark and dreary or Fire Red Tinted Sage for a crimson bouquet. Careful you don't prick your finger while adding in Magic Purple or Gold Tinted Thistle; with its thorn-like texture this flower beckons people to stay away. Or, continue the spider-like features with Nigella Pods whose finger-likes vines create a lacey web around a burgundy pod; they look like small dark eggs encapsulated in a spiders winding web. The more the creepier.
FiftyFlowers is always bringing customers a great selection of trend-setting flowers at wholesale prices. For more information on FiftyFlowers.com wholesale wedding flowers visit the website or browse their Pinterest page or Blog for more ideas on using flowers. They specialize in wholesale flowers for the do-it-yourself bride or event planner and pride themselves in having excellent customer service available via phone, email or live chat coupled with a 100% wedding day guarantee, which guarantees the quality of their flowers to every customer. They also provide their customers with extensive DIY information in the form of videos, a continuously updated blog, free phone consults with floral designers and progressive social media.