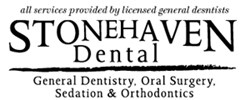 Stonehaven offers incentives for new patients.
Salt Lake City, Utah (PRWEB) August 29, 2013
Stonehaven is quickly earning a reputation as premiere dentists in Utah. Stonehaven Dental puts its patients first, consistently providing the best overall experience for every visit. Their staff recognizes that the experience is more than just what happens in the chair, so Stonehaven does everything to make the entire experience as welcoming and comfortable as possible for all their visiting patients. Whether patients visit Stonehaven dentists for routine yearly visits or major procedures, such as root canals in UT, they can rest assured they are receiving the latest technology for their procedures. Specializing in a wide variety of procedures, Stonehaven is now offering a special deal for new patients. The incentive has shown an increase in new clientele, especially those looking for affordable and reliable options.
Stonehaven family dental in Salt Lake City is offering new incentives for potential new patients.
Signing up with Stonehaven is giving people more than just a reliable dentist; new patients are offered a special incentive for joining the Stonehaven family. Their initial exam is no cost, along with any x-rays that accompany it. This no cost visit is motivating individuals to experience the offices firsthand and truly see the services they offer. Stonehaven is confident that they can convert new clients to their family dental in Salt Lake City with their modern offices and dedication to customer satisfaction.
New patients also leave their visit with a free gift; a complimentary toothbrush bag (comes with all cleaning visits). For their first appointment, with the visit with the dentist and x-rays, the amount of savings for one visit is exponential. First visits that go well generally lead to new patients feeling more at ease when major procedures, such as root canals in UT, happen down the line.
Stonehaven family dental in Salt Lake City offers a wide variety of procedures.
Stonehaven Dental has some of the most experienced and knowledgeable dentists in Utah that continually strive to keep educated on the latest dental technology, equipment and procedures. Specializing in procedures such as oral surgery, implants and root canals in UT, Stonehaven is proving their resolve to provide expert dental services for all their patients; old and new. With a wide variety of services and incentives, new patients are realizing the benefits of utilizing their services. For more information about becoming a new patient or the incentives they offer, visit their website at http://www.stonehavendental.com.