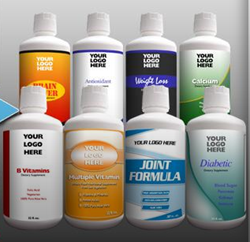 By offering free private label design our clients save ultimately thousands of dollars in design work.
Murrieta, CA (PRWEB) August 27, 2013
Matsun Nutrition is now offering free graphic design work for their private labeling program in an effort to help clients get started with private labeling supplements and keep start up costs low. There are 65 stock products to choose from and there is no minimum order quantity required. This allows businesses to start off with a few products to increase sales. Matsun Nutrition takes care of all of the details in private labeling supplements, working closely with your company. Their graphic design team completes the label designs the same day as the order. "Our private label program has proven to help companies increase sales and grow their business," says Brett Peterson, Matsun Nutrition's Director of Business Development, "and by offering free private label design, our clients save ultimately thousands of dollars in design work."
Matsun Nutrition is able to offer such a competitive service because they know how well their stock supplements and vitamins sell. They are also confident in the reorder potential. All of the stock vitamins and supplements they offer have been market tested, have received favorable feedback and are proven to sell in health stores, chiropractor offices, and in pharmacies. Matsun Nutrition's supplements are of the highest quality, taste great, functional and marketable. This results in products their clients can feel good about putting their own label on.
For those clients who do not have their own logo, Matsun Nutrition is also offering logo design services. "Solid branding is crucial to any successful product. We want to make sure that the labels we create our representative of our clients' goals and match the target market they are bringing their product to," said Matsun Nutrition's Private Label Program Director, Patrick Sattley.
To learn more about private labeling supplements with Matsun Nutrition, visit http://www.privatelabelliquids.com.
Matsun Nutrition has been offering private labeling since 1997 and also offers contract manufacturing services. All products are manufactured in a certified-cGMP (current Good Manufacturing Practices) facility, using only premium/qualified ingredients. All Matsun Nutrition products are manufactured in the United States of America.