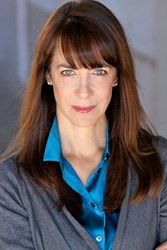 Albuquerque, NM (PRWEB) August 26, 2013
Local business and intellectual property law firm Leverage Legal Group Founder and CEO Jessica Eaves Mathews was announced as an honoree for the 2013 Top CEOs Awards presented by Albuquerque Business First. The Top CEOs Award honors New Mexico's most dynamic executives and recognize the contributions and achievements of those who have excelled as leaders in the New Mexico business community. Twenty-two honorees were named in multiple industry categories, including Ms. Mathews' nomination in Business Services for her work with Leverage Legal Group. A winner from each category will be announced at the Top CEOs Awards Luncheon on October 17th, 2013.
"I am very passionate about helping entrepreneurs and business owners here in New Mexico. I know that I and my fellow honorees share the same vision for my home state, and are ready to do their part to make our economy strong and the state a great place for business," Mathews said.
Nominations were accepted from public sources for the state's best leaders for the Top CEOs Awards. Each nominee was required to hold their company's top local executive spot and submit an application with information about his or her self for judging. A panel of experienced leaders, several of whom are former Top CEOs honorees, evaluated the honorees on professional achievement, leadership and community involvement. Judges include Dale Armstrong, TLC Plumbing & Utility; Mike Kivitz, Adelante Development Center Inc.; Dr. Beverlee J. McClure, Association of Commerce and Industry; Sheri Milone, Lovelace Women's Hospital; and Anthony D. Trujillo, Holman's USA.
For more information about the Top CEO awards, contact Albuquerque Business First or visit their website at http://www.bizjournals.com/albuquerque/.
About the Top CEOs Awards
The Top CEOs Awards recognize the contributions and achievements of those who have excelled as leaders in New Mexico businesses. Nominees are evaluated on their professional achievement, contributions to the community and leadership skills. A panel of leaders in the business community will evaluate the nominees. Those selected as honorees are celebrated at an awards event and featured in an Albuquerque Business First special report.
About Jessica Eaves Mathews
Jessica Eaves Mathews is America's Advocate for Women in Business™, an award-winning entrepreneur and intellectual property and business lawyer, published author and speaker, and leading authority on helping women entrepreneurs and women business owners step into their power and create a brilliant business and a brilliant life on their own terms. She has been featured on MSNBC, Oprah, Forbes.com, NBC, Oxygen, Allure Magazine and is the Silver Stevie award winner for Female Entrepreneur of the Year 2012. For more about Jessica, visit http://www.jessicaeavesmathews.com/.
Jessica has spent her legal career representing all types of businesses from solopreneurs to Fortune 500 companies. Before launching her own firm, she was the head of litigation and compliance for Paul Allen, the co-founder of Microsoft. Jessica is the founder of Leverage Legal Group, the premier, global intellectual property and business law firm for the new economy. Jessica's team of exceptional, experienced attorneys provide world-class, flat fee legal services, virtual general and outside counsel, and in-sourced legal services. The firm's award-winning, entry-level program, Leverage-a-Lawyer, provides budget-friendly, flat-fee legal services, information and education for first-time business owners or startups, who don't yet have the budget for full-blown legal counsel. Visit http://www.leveragelegalgroup.com for more information about the firm.
Jessica has continued to get experience "on the other side of the conference table" as Founder and CEO of Grace & Game, the only luxury American lifestyle brand for both golf and for the sophisticated, feminine, modern women. Grace & Game designs are made in the USA with sustainable fabrics and are designed to perform beautifully both on and off the course. Look for Grace & Game online at http://www.graceandgame.com. She is also Founder and CEO of Untoxicating Beauty, a new subscription beauty experience for women who care as much about what goes into their bodies as what they put on them.
She is also an adjunct professor at University of New Mexico Law School, is an appointee on the New Mexico Economic Development Council, is co-founder and Chief Legal Officer for The Virtual Accelerator, a virtual business accelerator for startups, and is the co-founder of Hautepreneurs, a new networking organization for women entrepreneurs based in Albuquerque, New Mexico.
About Leverage Legal Group
Leverage Legal Group is the first virtual, global Intellectual Property and Business law firm for the new economy. The firm provides services for small, mid-sized and large companies on a flat-fee basis. The firm offers Intellectual Property services such as trademarks, branding advice, copyrights, NDAs, IP protection strategies, business law services such as entity formation, strategic advising, contracts, compliance issues, risk mitigation, and guidance on Internet and e-commerce law.
For Mid-Sized Companies, the firm provides as-needed access to experienced lawyers, and offers monthly Virtual General Counsel services so that companies without an in-house legal team can have lawyers draft contracts, handle trademark clearance research or application filing, or get legal advice on a wide-range of topics to minimize exposure to liability.
For larger companies, the firm provides in-sourced lawyers, which provides CEOs and General Counsel with access to top legal talent to fill gaps in their in-house team without having to rely on expensive law firms with high hourly rates or incurring the cost of hiring a full-time lawyer. Leverage Legal Group can provide in-sourced lawyers on a project-based, part-time or full-time basis. The firm's lawyers have years of experience both as outside counsel and as in-house lawyers as alums of the best law firms and companies in the country.
Through the entry-level Leverage-a-Lawyer program, the firm provides limited, flat-fee economical legal services, information and education for first-time business owners or startups that don't yet have the budget for full-blown legal counsel. Leverage Legal Group is open to deferred fee arrangements or equity in lieu of fees for a select number of promising, emerging companies.