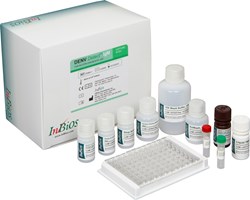 Seattle, WA (PRWEB) August 27, 2013
A new study conducted by researchers at the John A. Burns School of Medicine, University of Hawaii, evaluated the InBios DENV Detect IgM Capture ELISA for qualitative detection of IgM antibodies to dengue virus recombinant antigens (1). Well characterized clinical serum samples collected from Hawaii, Vietnam, Niue, Singapore and American Samoa were tested with the DENV Detect IgM Capture ELISA in comparison with in-house DENV IgM antibody capture (MAC) ELISA. The agreement, sensitivity, and specificity of the InBios assay were 94, 92 and 94% respectively. The study found that InBios' DENV Detect IgM Capture ELISA is advantageous compared to the in-house MAC-ELISA, as the results can be obtained in less than 5 hours, whereas the in-house MAC-ELISA requires 2 to 3 days.
The study, titled "Evaluation of a New Commercially Available Immunoglobulin M Capture Enzyme-Linked Immunosorbent Assay for Diagnosis of Dengue Virus Infection," was published in the Journal of Clinical Microbiology, July 2013;51(9):3102-6.
This study was supported in part by grants P20GM103516, U01AI078213 and U54MD007584 from the National Institutes of Health, grant W81XWH0720073 from the Department of Defense and by institutional funds.
About Dengue:
Dengue is a significant human pathogen of global importance. Today about 2.5 billion people, or 40% of the world's population, live in areas where there is a risk of dengue transmission. Dengue is endemic in at least 100 countries in Asia, the Pacific, the Americas, Africa and the Caribbean. The World Health Organization (WHO) estimates that 50 to 100 million infections occur yearly, including 500,000 DHF cases and 22,000 deaths, mostly among children (4). Recently there have been reported outbreaks in Kenya (May 2013) and Angola (June 2013) (2). Although most of the reported cases in the Unites States are acquired by travelers or immigrants, autochthonous dengue fever outbreaks have occurred in Brownsville, TX (2005), southern Florida (2009-2011) and Hawaii (2011) (3).
About InBios International, Inc.:
InBios International, Inc., located at 562 1st Ave. South, Suite 600, Seattle, WA, USA, manufactures diagnostic tests for infectious diseases. InBios is an FDA registered facility and ISO 13485:2003 Certified. The company manufactures a full range of dengue products including ELISA kits for Dengue IgM, IgG, and NS1 and a rapid test for Dengue NS1. All products are manufactured in the USA.
References:
(1) Namekar M, Ellis EM, O'Connell M, Elm J, Gurary A, Park SY, Imrie A and Nerurkar VR. Evaluation of a New Commercially Available Immunoglobulin M Capture Enzyme-Linked Immunosorbent Assay for Diagnosis of Dengue Virus Infection. J Clinical Microbiol. 2013; 51:3102.
(2) http://www.cdc.gov/dengue/travelOutbreaks/
(3) Bouri N, Kirk Sell T, Franco C, Adalja AA, Henderon DA and Hynes NA. Return of Epidemic Dengue in the Unites States: Implications for the Public Health Practitioner. Public Health Rep. 2012;127:259.
(4) http://www.cdc.gov/dengue/epidemiology/