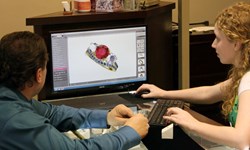 Gilbert, AZ (PRWEB) August 27, 2013
Jewelry making has gone high-tech.
With the help of computer-aided design, or CAD, customers of Gilbert's Forever Diamonds Jewelers can now channel their inner artist to create custom, personalized pieces of jewelry. From the size and shape of the piece, down to the color and setting of the stones, customers of the jewelry design and jewelry repair store can work with a trained salesperson to design their one-of-a kind piece. Forever Diamonds believes this hands-on involvement and attention to detail makes for a truly personalized and memorable jewelry buying experience.
The new technology also benefits the jeweler. With CAD jewelry design, Forever Diamonds can keep a wide inventory of "virtual" metal jewelry designs, enabling them to make minimal investment in volatile "physical" metal and gem markets. It also serves as a time-saving tool against the old-fashion artisan methods. Within minutes, a photo-realistic image can bring the piece to life, as opposed to the customer having to wait or come back another day to see a traditional wax casting.
To learn more about CAD jewelry design and to schedule a design-session, call Forever Diamonds Jewelers at 480-420-0899 or visit http://www.foreverdiamondsjewelers.com.
About Forever Diamonds Jewelers
Forever Diamonds Jewelers is a buyer of diamonds, gold, and silver in the greater Phoenix Valley area. A family-owned and operated business, Forever Diamonds Jewelers offers fair and competitive prices in a friendly and professional manner that is uncommon of most Cash for Gold businesses. A trustworthy Arizona gold buyer, Forever Diamonds gladly accepts a variety of items such as gold, loose diamonds, jewelry, and silver pieces including silverware.