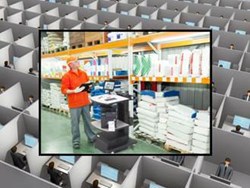 "The integrated power supply means we can rethink entirely the way we approach our workplace design and space requirements"
Middleton, MA (PRWEB) August 26, 2013
Newcastle Systems, a leading supplier of workplace mobility solutions, is now configuring the computer carts popular warehouse and retail operations as "Mobile Workstations" and "Mobile AV Stations" for the office.
While earlier pioneers of the "portable workplace" did away with static, assigned workplaces by requiring employees to move around a small filing cabinet and laptop to a preferred location each day, Newcastle Systems innovative, battery-supported carts allows for an entire workstation with a monitor and other peripherals to be on the go wherever it is needed.
Transforming the Cubicle Culture
Mobile workstations have shown to bring a number of expected and unexpected benefits to the workplace:

Lower Infrastructure Costs – A mobile workstation is a significantly smaller investment than than dedicated office space for both the equipment costs and the fixed floor space required. Equipment can also be shared more effectively, for when jobs move or shifts change.
Increased Productivity – A workstation at the point of activity eliminates unnecessary foot travel, and for many configurations will also reduce electricity use by charging batteries during off-peak rate periods overnight.
Improved Accuracy - With a mobile workstation at your fingertips on your portable desk, the potential for mistakes is significantly reduced. This has been true in the healthcare industry, for example, where it has really taken off.
Workplace Safety and Health- Standing workstations have been proven to provide health benefits for office workers and a compact, self-contained workstation without cords reduces potential hazards.
Making Any Room a Multimedia Venue
In addition to transforming the everyday cubicle into a mobile workstation, powered computer carts are now being configured as "Mobile AV Stations" that turn any room into a meeting venue for presentations, teleconferences or training. Taking a projector into a shop facility or other large room without AV capabilities is easy and requires no extension cords.
Universities are one example of an organization already taking advantage of this technology. With the need and desire to extend the life and utility of older classroom buildings, Mobile AV Stations let an educator take the media to the classroom where they need it.
About Newcastle Systems, Inc.
Newcastle Systems is a provider of workplace mobility solutions that include a range of mobile computer carts for every mobile workstation need and a unique power pack system that enables companies to maximize workplace efficiencies with smaller investment. Newcastle Systems mobility solutions are in place around the world helping reduce footsteps in warehouses, speeding receiving operations, improving staffing efficiencies in retail, and providing convenience and ergonomic benefits for employees in many sectors including Manufacturing, Education, Distribution, Military and other Government entities.
For more information: Please visit our website at http://www.newcastlesys.com or direct inquiries to us via sales(at)newcastlesys(dot)com.