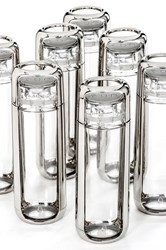 Using chrome to reflect the world onto the vessel, makes it so much more unique and special.
Thousand Oaks, CA (PRWEB) August 26, 2013
Five years after KOR's launch of the RKS design of the KOR One, it announces the Chrome version. KOR originally engaged RKS to leverage design to raise water bottles into the fashion-forward personal accessory market. Five years later, the brand is global and it will end the year with six lines of products, all delivering sustainability and rich design to the world. "Our five year partnership with KOR, the impact the KOR has made on the world, and the value that design brings to everyone's lives is perfectly celebrated with this version. Design speaks to our inner self and the products we pick show the world how we feel; about ourselves, about the need for sustainability and the value of water, and how the world reflects onto our choices. KOR has always been about the beauty of water. Using chrome to reflect the world onto the vessel, makes it so much more unique and special," comments Ravi Sawhney CEO of RKS and key investor and advisor to KOR.
KOR Water, Inc., founded in 2005 by Eric Barnes and Paul Shustak and headquartered in Aliso Viejo, CA, develops and markets an award-winning, design-driven line of hydration products and accessories that express and promote the awareness that like drops from the ocean, humans are both unique and connected to all living things through water.
RKS is an innovation consulting firm delivering human-focused solutions with global impact. Founded in 1980, RKS utilizes design as a strategic tool advancing client's ability to focus on people's needs and aspirations while creating sustainable business results and benefits to society. Working domestically and globally and having won over 150 major design awards, RKS credits Maslow and Campbell's work as the foundation for its systematic and pragmatic set of frameworks, setting the stage for the creation of experiences that motivate and reward audiences.