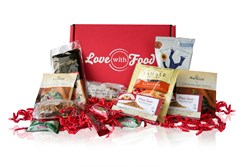 Santa Clara, CA (PRWEB) August 26, 2013
Gourmet subscription snack company Love With Food has collaborated with Chef and Owner of Blue Ginger Restaurant in Wellesley, Massachusetts and host of Simply Ming on PBS TV, Chef Ming Tsai on their September 2013 Gluten-Free Tasting Snack Boxes in hopes of raising awareness to fight childhood hunger. September 1, 2013 marks the beginning of Hunger Action month through which a network of food banks around the country penetrate the community to raise awareness about the hunger epidemic within the USA. According to Feeding America, the nation's leading domestic hunger - relief organization, 16.7 million or 1 in 5, children go hungry every day in the United States. Founder, Aihui Ong, pledged at the advent of her business, Love With Food, to donate one meal to feed a hungry child in the USA for every tasting box sold. Her company has successfully donated over 100,000 meals to date, and hopes that together with Chef Ming Tsai's help, they can quickly double this number.
Chef Ming Tsai has handpicked an array of gluten-free options for subscribers to enjoy in their September 2013 tasting box, themed 'Hunger Action', including items like Betty Lou's Blueberry Fruit Bars and Licious Organics Cherry Berry Raw cookie. As a father of two, Chef Ming Tsai has dealt first hand with a battle against food allergies and children's diets as his 3 year old son suffered from 7 different food allergies. Using his son as inspiration, Chef Ming Tsai set out to educate the public and find a cure. Today, his son no longer suffers from food allergies, and Chef Ming Tsai continues his passion as a spokesperson for the Food Allergy and Anaphylaxis Network (FAAN) where he aims to further education and research on food allergies. In honor of Chef Ming Tsai, Love With Food will be donating all meals for the month of September to the Greater Boston Food Bank.
Love With Food is an all-natural, organic gourmet snack subscription company based out of Santa Clara, California. For $10 a month plus the cost of shipping, Love With Food will ship you a box of gourmet surprise to your doorstep every month. Feel free to visit them at LoveWithFood.com and join the fight against childhood hunger through discovering great snacks for a great cause!