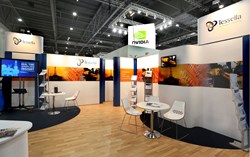 Free exhibition stand design for life.
Poole, Dorset (PRWEB UK) 27 August 2013
Poole based exhibition design and build company, Quadrant2Design, has announced the introduction of a new 'free exhibition stand design for life' scheme to ensure the longevity of their customers stands over time and at different events.
Under this new scheme, when using the Prestige Events System, Quadrant2Design will re-design and re-configure the clients stand hardware, free of charge, to fit any new stand space.
Quadrant2Design believe this will increase their customers' exhibition and events flexibility, adding enormously to the value of purchasing a Prestige Events System exhibition stand.
The Prestige Events System, Quadrant2Design's flagship product, is unique in being both a flexible and modular exhibition stand system; capable of being reconfigured into multiple stand configurations to suit the rapidly changing requirements of customers.
For instance, the modular nature of the Prestige System allows it to be used for a press conference, then re-configured for a product launch, PR event, roadshow display or exhibition stand. This degree of modularity and multifunctionality makes the system of immense value to marketing teams coping with numerous events.
Prestige is also an 'easy to self-build' exhibition stand system, removing the clients dependence on contractor lead installations. No other exhibition solution offers this degree of versatility; the ability to adapt for different uses and different spaces.
Whilst the Prestige Events System can be self built by the end user, some customers prefer to utilise the expertise of Quadrant2Design's in house installations team to save time and effort.
With the introduction of the new 'stand design for life' scheme, Quadrant2Design will design and configure the clients exhibition stand design to maximise the use of any new space, and whenever possible, reusing the clients existing graphics to achieve maximum value.
Quadrant2Design view the new offer as a natural extension of the flexibility of the Prestige Events System. The key advantage of this approach is that it utilises the in-house design team's long established track record in perfectly designing the stand configuration to maximise brand recognition in any given space.
It also further demonstrates Quadrant2Design's approach to establishing long term relationships with clients, helping them, over time, to maximise the value of their investment in a Prestige exhibition stand.
Managing director of Quadrant2Design, Alan Jenkins, said: "We have the most flexible exhibition events system available on the market. Naturally then we wanted to offer complementary stand re-configuration and design to provide ongoing support for our customers looking to get the most out of the Prestige Events System. We are really happy with our after sales support and think it will really help our customers to more easily, tell their brand story at different events over time."
For further information, please contact a Quadrant2Design Design Consultant: phone +44 (0)1202 650 333 or email designteam(at)quadrant2design(dot)com