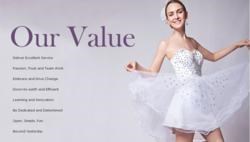 (PRWEB) August 24, 2013
Today, MM Dresses (MMdresses.com), a well-known company for its trendy dresses for women, launched its new pretty Quinceanera dress collection (http://www.mmdresses.com/pretty-quinceanera-dresses_c16_86), and announces that all these dresses are now available at new low prices, up to 69% off.
The new dresses are well-known for fashionable designs and delicate craftsmanship. With the updated website, the company is ready to provide the customers with the hottest trends today, because shopping online for the latest fall trends has been an efficient and affordable way for many people.
According to the CEO of the company, the promotion is valid until Sept. 14, 2013. Moreover, the promotion launched by MM Dresses covers all the Quinceanera dresses at MMdresses.com. MMdresses.com is a true one-stop wholesale clothing shop for retailers, boutiques and customers around the world.
Besides, the company is hosting a selection of high-profile fashion shows and see-and-be-seen after parties. The company has employed many top designers to form a design team. Now, not only ladies find a chance to shop for a wide range of women's outfits but also acquire price tag with never before discount rates.
About MM Dresses
MM Dresses (MMdresses.com) is a high-technology company of women's dresses, offering many trendy prom dresses, little girl pageant dresses, homecoming party dresses, bridesmaid dresses, evening dresses, and more at competitive prices. The company aims to deliver its customers around the world all kinds of dresses at prices as low as possible.