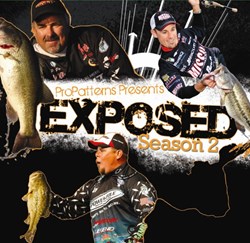 Most first time competitors at a divisional level have never fished 8 to 12 days in a row. It can be mentally and physically exhausting.
Yankton, South Dakota (PRWEB) August 26, 2013
Unlike recreational fishing, the BASS event follows a specific set of rules and guidelines that might surprise those unfamiliar with the sport. The term "fisherman" is lost on the competitive circuit as both men and women compete. The terms angler and angling are used instead.
Anglers competing on Lake Francis Case are allowed to spend more time preparing but have official practice on the water two days before the event to get a feel for the conditions above and below the surface. Each day, during competition, each angler draws a partner from another team. Each team is comprised of six boaters and six non-boaters. Each boater draws a non-boater from one of the other seven teams. Unique to this sport, competing team members are placed together in the same boat.
Each angler is scored on their five heaviest bass of each day, those weights are tallied into a three day total. The top placer from each team will qualify for a slot at Nationals. In addition the Divisional Championship also offers a first place team honor and prize, as well as an individual award for the biggest bass caught.
BASS is part of a parent organization called Bass Anglers Sportsman Society(B.A.S.S.). B.A.S.S. has other events which are growing in popularity across the country including college and even high school divisions taking shape. Once the venue of public television and syndication, competitive fishing has spread to the Internet and social media as the sport has grown tech savvy. Fishing has become big business with outfitters chasing celebrity endorsement and states like South Dakota promoting outdoor sports tourism.
Among several companies sponsoring teams at Lake Francis Case will be ProPatterns, Inc. based out of Yankton, SD. Several years ago, local pro-angler Chad Ekroth anticipated several forces at work that were changing the face of professional fishing. With his expertise in computer technologies, Ekroth saw the opportunity to create ProPatterns.com, an educational website dedicated to promoting fishing.
One of the key features of ProPatterns.com is its online fishing series, Exposed, which follows the best anglers in the sport as they study and fish some of the most challenging waters in North America, offering tips and insights for both amateurs and pros. "The advocates of the latest gadgets and tackle are the professionals who we all see on television," Ekroth contends. "By working with them on Exposed, we are able to share insight into how these top performers think. Orchestrating the series with the pros takes knowledge of the sport, a great deal of industry awareness, and a keen understanding of the financial aspects of the other sponsors you may be working with or competing with."
Ekroth and ProPatterns will be on hand as one of the South Dakota BASS Nation sponsors during a portion of the competition at Lake Francis Case. Ekroth has qualified and fished in 10 Divisional competitions and is very familiar with the process for qualifying and competing at this level. "Once you make it to this stage, a different level of mental preparedness takes place," he offers from his own experience. "Most first time competitors at a divisional level have never fished 8 to 12 days in a row. It can be mentally and physically exhausting."
As a sponsor of SD BASS Nation and a promoter of fishing education, Ekroth says, "ProPatterns realizes how important it is to make sure the proper message and instruction is sent to the anglers who need it most." In addition to sponsoring events like the Northern Divisional, ProPatterns targets online delivery to all levels of angling enthusiasts. "Information and electronic sharing is becoming a huge tool for fishing and specifically tournament fishing," Ekroth says. "Making sure information is shared effectively using the latest tools is what ProPatterns continues to develop as new technologies emerge."
SD B.A.S.S., the local chapter, is the host of this year's event, an event that rotates among the states who are part of the division. "Bass are not considered the preferred fish of choice on most of the Missouri Reservoirs or any northern lake for that matter," Ekroth states but adds, "Tournaments of this nature and organizations who travel here to promote bass fishing create awareness about how great South Dakota can be, and how many people regionally are activists for this type of fishing, the most sought after game fish in the world." Everyone who is in the area is encouraged to attend the event as another way to promote tourism and fishing in South Dakota.
About ProPatterns, Inc. and Exposed:
ProPatterns, Inc. is a leader of angling education offering a variety of fishing tips and membership services online. Information is gathered from various sources and shared with members in a variety of ways. The Exposed video series, for example, gains all of its integrity from an alignment with the biggest names in the bass fishing industry including professionals who fish with BASS, FLW, and PAA. Cooperation from the anglers and their willingness to share is the catalyst for the growth of this series.
The company is based in Yankton, South Dakota, home of CEO and President Chad Ekroth. Ekroth's background includes a computer science degree and business experience involving several successful startups. When not tending to business, Ekroth spends his time tournament fishing and engaging in other industry relations including a long time commitment to B.A.S.S. Nation as a 25 year member and competitor.
In addition to Exposed the company provides online fishing journals, payday opportunities, sponsorship opportunities, and a variety of other services including the new enhanced Fantasy Fishing competition which provides all members a chance to win prizes.
Visit http://www.ProPatterns.com today to receive all of the latest information about the Exposed videos series and to learn more about all of the member services available.