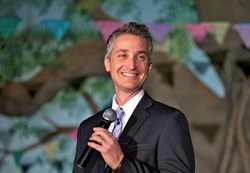 Why is it that in the same external conditions, operating the same franchise procedures, some franchisees thrive while others flounder?
Los Angeles, CA (PRWEB) August 28, 2013
Coffee Beanery recently hosted franchise speaker Scott Greenberg as the opening keynote speaker at their annual franchisee meeting at the Buena Vista Place Resort in Orlando, Florida. The event was attended by corporate staff and franchisees from 120 Coffee Beaneries located throughout the world.
Greenberg's first of two talks was entitled "The Third Factor: The Distinguishing Element for Franchise Success." The program focused on how franchisees must free their brains of mental distractions so they can more effectively manage their teams, serve their customers and build flourishing businesses.
"Why is it that in the same external conditions, operating the same franchise procedures, some franchisees thrive while others flounder?," asked Greenberg, who himself owns two "Edible Arrangements" franchises in California. "The difference is the third factor – internal mastery -- the thoughts, beliefs and emotions that permeate every aspect of running a business. Ultimately, entrepreneurs must have the mental 'stuff' to make good decisions."
His second program was called "Creating A Team of Superstars," which discussed ways to recruit, train and motivate employees. He also talked about generational issues and gave techniques for managing and motivating "Millennials."
Franchisees also heard from Coffee Beanery founder and CEO JoAnne Shaw, and attended additional sessions and a vendor show.
About Scott Greenberg
Franchise speaker Scott Greenberg helps small business owners and managers develop the mindset for success. Clients include The Wyndham Hotel Group, the Global Franchise group as well as Cargill International, YPO and the U.S. Air Force. Scott has written three books on leadership and is a contributing author to "Chicken Soup for the College Soul." In addition to 20 years in professional speaking, Greenberg is also a multi-unit franchisee with "Edible Arrangements." His operation has won awards for "Best Customer Service" and "Manager of the Year" out of over 1000 Edible Arrangements franchises worldwide. For more information about Scott Greenberg, visit http://www.franchisespeaker.com or call 1-800-450-0432 (or outside the U.S. 1-818-785-5202).
About Coffee Beanery
Coffee Beanery opened its first stores in the United States in 1976, before the American public knew the term "specialty coffee." In the 37 years that have followed, Coffee Beanery continues to build its brand and franchise organization on the principles of time-tested and honored traditions and values. Exceptional coffee, a warm relaxing environment, and a corporate culture that embraces its franchisees with every opportunity to succeed exemplify these values. Today, Coffee Beanery has nearly 100 locations throughout the U.S., 20 locations internationally, and is recognized as an industry leader for its unique family business approach, corporate culture and commitment to quality using our trademarked Right Roast® processing. Visit http://www.coffeebeanery.com for more information.