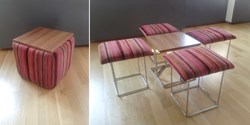 "Making Room has proven to be one of the most popular exhibitions we've launched in recent years," said Susan Henshaw Jones, Ronay Menschel Director of the Museum of the City of New York.
New York, N.Y. (PRWEB) August 26, 2013
The Museum of the City of New York is extending its popular exhibition, Making Room: New Models for Housing New Yorkers – complete with a fully built "micro-unit" – to September 15th due to popular demand.
Organized in conjunction with Citizens Housing & Planning Council (CHPC), Making Room was due to close its doors Labor Day weekend. But in August, the exhibition continued to draw throngs of visitors from the region, country and around the globe.
"Making Room has proven to be one of the most popular exhibitions we've launched in recent years. People are attracted to our fully furnished apartment with transformable furniture, offering insights into how design will re-shape the future of the city's housing stock," said Susan Henshaw Jones, Ronay Menschel Director of the Museum of the City of New York.
The exhibition examines how New York City's changing social, economic, and cultural lives, especially the rise of single adults, are re-shaping urban households. It presents an array of innovative architectural solutions that could better accommodate the city's emerging housing needs.
A highlight of the exhibition is the full-scale "micro-unit," giving visitors the chance to step into an innovative solution that could help New York accommodate the city's booming single population. The 250-square-foot apartment, built and furnished by Clei s.r.l. and Resource Furniture, changes through the course of the day, morphing to the occupant's needs. With transformable furniture, such as tables, bed systems and seating, space is utilized efficiently and creatively.
One of the more enticing elements of the "micro-unit" is the Cubista, an ingenious little coffee table and ottoman that transforms to provide seating for four people. The Cubista was customized with a walnut top and upholstery specifically for the Making Room exhibition.
Each side of the vibrant Cubista can be removed and attached to one of four steel bases tucked inside the ottoman structure – and each with a comfortably padded seat. The seats, in fact, are the perfect dining and desk seat height.
Visitors frequently ask to see the Cubista transformation – so much so that Resource Furniture and the City Museum plan to award the living room jewel to a lucky visitor. Starting on Friday, August 30th until Sunday, September 15th, any visitor to the Museum can enter a contest to win the exhibition item, with paid admission.
Making Room features proposals to provide new housing options for a 21st century population (including shared housing for single adults and modified homes for extended families), a look at real-life examples pioneered in other cities around the world, and innovative designs submitted to New York City's adAPT competition, which enticed developer/architect teams to design buildings of micro-units for small households, meaning one- to two-people.
Making Room originated with the launch of Mayor Bloomberg's PlaNYC report that projected an increase of one million residents by 2030. CHPC began to examine how our current population is being accommodated and revealed that New York's residential stock and related codes no longer match the needs of its changing population. Today, almost half of the New York City population is single, a shift that is radically reshaping housing needs. Already a third of all households are a single person living alone and the rest of the single population are staying with family for longer or sharing with unrelated adults in a variety of informal, and often illegal and unsafe, arrangements. The reality is that only 18 percent of the city's housing is occupied by a nuclear family, defined as two parents and children under 25.
Meanwhile, small apartments (less than 400 square feet) are prohibited in many areas of the city, and it remains illegal for more than three unrelated adults living together. As a result, single-parent families, immigrants, the elderly, and recent graduates, among other groups, struggle to adapt themselves to housing designed for a previous generation.
Examples of innovative housing types that are being built across the country and globe, including San Diego, Montreal, Seattle, and Tokyo, are also detailed in the main exhibition space. Japan has long been recognized as a leader in creating small, well-designed living spaces and the exhibition showcases several compact homes recently built in Tokyo.
The exhibition also highlights the work of five design teams that came out of a challenge CHPC launched in partnership with the Architectural League of New York in 2011. The teams' proposals explore a multitude of new housing types, including mini-studios for single adults, new shared housing options, and accessory units for extended families.
ABOUT THE MUSEUM OF THE CITY OF NEW YORK
Founded in 1923 as a private, nonprofit corporation, the Museum of the City of New York celebrates and interprets the city, educating the public about its distinctive character, especially its heritage of diversity, opportunity, and perpetual transformation. The Museum connects the past, present, and future of New York City, and serves the people of the city as well as visitors from around the world through exhibitions, school and public programs, publications, and collections. The Museum is located at 1220 Fifth Avenue at 103rd Street. Learn more at http://www.mcny.org.
ABOUT CHPC
Citizens Housing & Planning Council (CHPC) is a non-profit research organization dedicated to improving housing and neighborhood conditions through the cooperative efforts of the public and privates sectors. Since 1937, CHPC through its impartial research and nonpartisan advocacy, has shaped and influence public policy to improve the city's housing stock and the quality of life in New York City's neighborhoods. Its board includes practitioners and experts in the fields of urban planning, architecture, zooming and land use law, housing, finance and development, and community development. They provide a practical perspective that enhances CHPC's high-quality quantitative research and insight on issues affecting the city's future.
ABOUT CLEI S.R.L
Clei s.r.l., based in Italy, has been fusing high design, innovation and unparalleled patented technology with smart and stylish furniture solutions since 1962. Their modern and easy to use transforming wall bed systems integrate bookshelves, storage, sofas, tables and desks and are the result of a company philosophy with strong emphasis on research, creativity, innovation and engineering. The full line is available in North America exclusively at Resource Furniture.
ABOUT RESOURCE FURNITURE
Resource Furniture has built a global network of showrooms offering a range of top-selling luxury European furniture. Resource Furniture is dedicated to redefining the use of space and pushing the limits of technology and design. Since 2000, Resource Furniture has imported and distributed inspired, modern furniture from the finest and most innovative European designers. Every piece in the Resource Furniture collection is selected for its ability to transform a space with both beauty and functionality. For more information, visit one of the showrooms in New York, Toronto, Vancouver, Montreal, and Calgary or on the web at http://www.resourcefurniture.com.