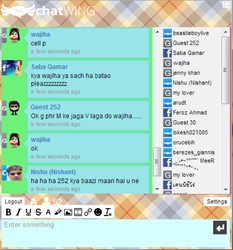 Cambridge, MA (PRWEB) August 25, 2013
To lessen the rate of inactive bloggers, Chatwing.com chat software is creating a new initiative that will spark inspiration and timely ideas. Core developer Mike Diamond has communicated with a couple of Wordpress bloggers in order to diversify tips regarding blogging in general.
"Every blogger contributes to global connectivity," Mike Diamond said. "Through his comments, he may enlighten other users and they can learn from him. While it's true that we cannot avoid having inactive bloggers, we can lessen the rate. Having a simple way of communication is a better start for everyone."
The Chatwing chat app, according to Mike Diamond, is a versatile chatroom that can spread one data after another. It is now in version 3.0—wherein features are well-rounded, faster, and more reliable. Customization options have been expanded so users can tweak the appearance of their chat apps as much as desired. Social media integration is also another important part of the application, allowing users to log in with their Facebook or Twitter accounts.
"We are also talking about trends in every chatroom. Trends are likable. You will see one trend pop up and go down. Trends will always be there, and they are hot topics for any website," Mike Diamond added.
About Chatwing.com
Chatwing.com specializes in the new field of live website chat software. Over years, the Chatwing team has introduced live chat widget for hundreds and thousands of blogs. The Chatwing application bridges people from many parts of the world, creating global synergy through the Internet. The shout box can be installed in just seconds, and it can be used for varying purposes such as leisure and Internet marketing. It also allows a user to customize the size, color, and name of the widget.