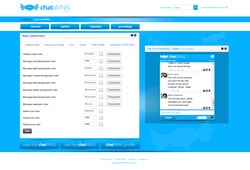 Boston, MA (PRWEB) August 26, 2013
Sporting enthusiasts can now use the new chat software offered by Chatwing.com. In this version, the developers have included a Facebook login method so they can join groups and like fan pages easily. Other features included are live control panel, premium advantages, MP3 upload, and new background images.
Sports bloggers, especially those that are offering reviews, can benefit a lot from the Chatwing chat software. Based on the observation of several Chatwing users, the widget has increased web traffic by more than 50%. The rate can even go higher, depending on the popularity of the website's niche. In case of sports bloggers, the widget can help them exchange information about the world's best matches and even issues with athletes.
In Chatwing 3.0, a Facebook login method is available for sports bloggers. By logging in with Facebook, users can exchange friend requests and they can invite each other in their social groups and pages. According to some sports bloggers who have tried the widget, the Facebook login has also increased their sites' visibility.
Aside from the sports blogging niche, Chatwing chat app is considering an expansion to other niches, such as finance, self-development, hobbies, chat support, mobile development, and many more. With these expansions, the company will also introduce new app versions with competitive features.
About Chatwing.com
Chatwing.com specializes in the new field of live website chat software. Over years, the Chatwing team has introduced live chat widget for hundreds and thousands of blogs. The Chatwing application bridges people from many parts of the world, creating global synergy through the Internet. The shout box can be installed in just seconds, and it can be used for varying purposes such as leisure and Internet marketing. It also allows a user to customize the size, color, and name of the widget.