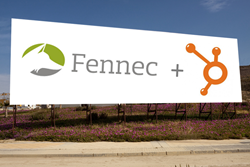 Inbound and Content Marketing Services are NOT commodities, and need to be tailored to align closely with each Brand, its audience profiles and business goals. - David Dallaire, President
Seattle, WA (PRWEB) August 30, 2013
Fennec Marketing Group is now offering custom-packaged marketing automation services for businesses looking to ramp up their lead generation activity and effectively manage their customer engagement activities across all their digital channels.
Unlike the industry standard that provides a narrow range of options that default to a fixed menu of services, Fennec Marketing Group's packages are designed around each businesses' specific needs, industry, business objectives and regional, national or global footprint and audience.
David Dallaire, President of Fennec Marketing Group, shared the logic behind the new approach: "After experimenting with different offerings for the last year, we feel very strongly that inbound and content marketing services are often provided as commodities, but instead need to be tailored services that closely align with each client's brand, audience profiles and business goals."
Behind the branding, content and audience engagement strategies being implemented for clients, Fennec Marketing Group is partnering with HubSpot to get clients up and running quickly and effectively with a complete, user-friendly "marketing engine" that lets them collaborate across teams and with the agency.
Dallaire noted "HubSpot not only has the most user-friendly platform that gets you up and running quickly, but has continuously shown us a knack for staying ahead of the curve and anticipating user needs and market changes - and responding to them effectively."
HubSpot's Content Optimization System (COS) is the first fully integrated website, blog, landing and conversion page platform that recognizes and optimizes content for each visitor, at each stage of their journey as a buyer and takes persona-driven Inbound Marketing to the next level. It's long-term value comes from its flexibility to grow with your business and support the ever-growing activity levels required to stay relevant in the digital world.
With the new emphasis on creating and managing a fully-integrated "marketing engine" for their clients, Fennec Marketing Group, along with their established branding practice, now provides the simplified one-two punch small and medium businesses need to ramp up the tangible marketing results they need to grow.
To see a sample of the typical services that make up a Marketing Engine menu, please view a sample list here.
About Fennec Marketing Group
Fennec Marketing Group was founded in 2010 with the expressed aim of creating "Customer-First" excellence in its clients businesses through Branding, Marketing Services and Consulting. By holding a firm line on the question of "Strategy vs. Execution?" with the response "Strategy first, then execution" Fennec Marketing Group excels at making strong Brands for businesses big and small and helping them execute more efficiently than they would without the strong strategic work provided up front.
David Dallaire has worked in executive marketing roles and in customer-facing operation roles for Fortune 100 Brands all over the world, providing a unique set of experiences he is now able to leverage for his clients.
Please contact him at David(at)Fennec(dot)co.