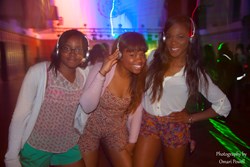 When you first see everyone dancing to no apparent music, you may laugh a little.
Ithaca, NY (PRWEB) August 27, 2013
On August 25th, 2013, hundreds of Cornell University students came together for a live music event called a 'silent party' on the Cornell Arts Quad. A silent party is an event where the music is played to wireless headphones worn by everyone in the audience.
The event was organized by the Cornell University Orientation Steering Committee in collaboration with Party Headphones, a student-run business that rents and sells wireless headphones.
The concept of a silent party started in the Netherlands in 2002 and quickly became popular in Europe and Australia. After recently making its way to the United States, several undergraduate students saw a business opportunity they couldn't resist.
"After we hosted a few events, we realized how much people love it," said Jacob Reisch, class of 14' and Co-founder of Party Headphones. "When you first see everyone dancing to no apparent music, you may laugh a little. Yet as soon as the headphones go on, you can't even help but to start dancing."
Cornell isn't the only school who's been 'silencing' their parties though. Many universities and corporate event planners are finding the technology to be a solution to restrictive noise ordinance and an opportunity for a unique event concept where 2 DJs play music at the same time.
"Party Headphones started as a class project just over a year ago," said Reisch. "We realized we had an actual business when the Museum of Modern Art, Red Bull and Nestle started contacting us about our technology."
The business now has 6 team members and operates out of the Cornell Business and Technology Park in Ithaca, NY. Having worked with clients in nearly a dozen states, Party Headphones plans to continue bringing silent party technology to event planners across the country.
About Party Headphones
Party Headphones specializes in helping event planners host unforgettable silent party experiences by providing premier wireless headphone technology. For more information visit partyheadphones.com.