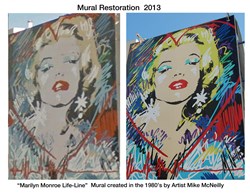 "Marilyn Monroe-Life Line" & Jim Morrison Life-Line" Murals Reflect a Great Hollywood History. The Life-Line murals of Jimi Hendrix, Elvis & Janis Joplin were lost due to the L.A. mural ban.
Los Angeles, California (PRWEB) August 25, 2013
A decade-old ban on murals may be headed for change with the crafting of a number of new mural ordinances that would preserve existing murals while creating opportunities for new ones. Threats of fines, lawsuits and jail time for artist and property owners in "The Mural Capitol of the World" have created a chilling effect on free speech and the 1st amendment right of artistic expression in Los Angeles. Hundreds of murals have been lost due to the aggressive enforcement by city officials and the city ban on murals.
As an example, for decades, street artist Mike McNeilly has created dozens of murals in L.A. that have been painted over and removed by orders from the city. The murals have raised awareness for social, moral and environmental issues as well as murals that celebrated the creative history of Los Angeles. "Stop the Violence, Save the Children", "We The People", "Liberty", "I Love You Daddy", "No Glove, No Love", "Buy American", "World War-World Peace", "Purple Haze", "9-11" and "One L.A." are a few of McNeilly's murals that are now history due to the ban on murals and the unfair actions of L.A. politicians. When asked about the New Mural Ordinance, McNeilly stated,
"Remove the ban on murals and make sure the politicians don't try to dictate the content of the new murals...the city has the right to rule on Time, Place and Manner but not the Art."
The new mural ordinance (http://cityclerk.lacity.org/lacityclerkconnect/index.cfm?fa=ccfi.viewrecord&cfnumber=11-0923) will be separate from the sign law by identifying murals as something other than signs, with a focus on murals as original works of art.
Currently, any mural on private property is considered illegal commercial signage even if it's purely artistic in nature.
The proposed ordinance will grandfather murals placed on private property during the ban. The mural ordinance would allow "works of visual art"--painted by hand, installed using vinyl or tile, for creating the opportunity for new murals across the city and dismiss art as a crime.
Item #7
L.A. City Council
http://cityclerk.lacity.org/lacityclerkconnect/index.cfm?fa=ccfi.viewrecord&cfnumber=11-0923