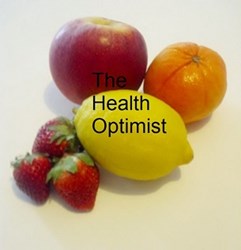 The Health Optimist is Building Family, Community and Healthy Minds.
(PRWEB) August 27, 2013
In her popular blog "The Health Optimist", Hanlie Combrinck has been writing about her quest for positive health for almost three years. She shares how she succeeded in lowering her LDL cholesterol from over 9 to 6.1 and still falling, with lifestyle changes. Her new book "The Health Optimist" is based on the blog, and shares positive lifestyle strategies for busy parents, along with a wealth of healthy recipes.
Four years ago, Hanlie made a decision to take a phrase from the well-known American psychology professor Suzanne Segerstrom as her mantra: "Optimism is something you do".
With a history of health challenges like thyroid trouble, anxiety, and just a busy life as a working mom, Hanlie was inspired to share how she overcame the obstacles - to spread healthy optimism and give back to the many people who made the journey easier.
The Health Optimist Eating Plan is provided in the first chapter, and provides a back-to-basics menu plan which provides healthy weight loss of one or two pounds per week, if followed. This is no starvation or fad diet; it even includes ice-cream.
In Chapter 2 "Strategies", Hanlie describes how she coaxed her young toddler to eat well at the table, how she survived his first week in Kindergarten, and winning strategies to get a toddler to sleep. All the ideas are based on her tried and tested personal experience and help from a tireless Mom-in-Law who is a retired nurse.
In Chapter 4 "Family" the author shares a great idea for play dates, easy back-to-school kids' lunches and her plan to get a squirmy toddler to dress.
In the chapter "Optimist in the Kitchen", Hanlie draws upon her large store of healthy recipes which help keep her young family healthy, despite a busy schedule. The recipes are fairly frugal, easy and in line with the Canada Food Guide.
After receiving encouraging feedback about the blog and gaining many subscribers, "The Health Optimist" book is a natural progression and should be a welcome addition to any family's book shelf or cookbook collection. It is available in e-book format and full-color hard-cover format, from Amazon and most other online booksellers. The ISBN is 978-1-61-933082-5.
For more information, visit myhealthoptimist.com.