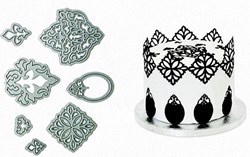 We're very excited about how well the new Sweet Accents system was received at the show. This tool opens the doors for new decorating possibilities.
Winchester, VA (PRWEB) August 27, 2013
September 1st, Icing Images will introduce a wide array of new decorative die cutters made for the Sweet Accents™ die cutting and embossing system. The new line includes an assortment of sets to create borders and decorative elements for cakes, cupcakes and cookies using the first ever food-safe die cutting machine.
Icing Images recently celebrated the official launch of the Sweet Accents with a ribbon cutting ceremony at the International Cake Exploration Societe' Convention in Lexington, KY where celebrity cake artists Peggy Tucker, CMSA; Mike Terry, CMSA; Jay Qualls of TLC's Next Great Baker; Sarah Myers, High Five Cakes; Teri Tarbox, Simply Cakelicious; Linda McClure, Deseret Designs; Sidney Galpern, Simi Cakes; Edna De la Cruz, Design Me A Cake and Food Network Challenge winner; Melissa Payne, TLC's Next Great Baker and Sweets Couture; and Joshua Simpson, Southern Twists showcased the extensive capabilities of the system using Premium Icing Sheets™.
Icing Images was joined by special guests Norman Davis and Zane Beg, both Food Network Challenge Stars, Dana Herbert, winner of TLC's Next Great Baker and Collette Peters, author and celebrated cake decorator. Peters joined Peggy Tucker, CMSA, in a lollipop making demonstration using iDesigns™ printed on Icing Images Premium Icing Sheets.
"We're very excited about how well the new Sweet Accents system was received at the show. This tool opens the doors for new decorating possibilities with our Premium Icing Sheets and has inspired professional cake decorators to create innovative cake decorating designs." Deborah Coughlin, Icing Images owner.
Icing Images also introduced 600 new iDesigns designer prints licensed for edible printing to their extensive collection. Once available only by subscription for edible printer owners, the extensive 1600 designs are now accessible through Icing Images' Pay Per Print Service, a service which allows the customer to select a single design, have it printed and shipped to his/her door. This option is being offered to accommodate customers who do not own a printer.
Unlike the metal die cutters manufactured for crafting purposes, Spellbinders has designed these dies using food-safe metals and food safe plastics for the embossing folders exclusively for Icing Images. The next release of new die cutters is due out in November, just in time for the winter holiday shopping season.
Sweet Accents is a non-electric system that embosses and cuts using sandwiched plates in conjunction with embossing folders or die cutters to create a wide array of designs to be used for decorating desserts.
Icing Images has been a leading distributor of edible image and edible paper art supplies for over a decade. Edible image supplies such as edible image printers, edible ink, icing sheets, and electronic and die cutters are used by cake and confection decorators throughout the world.