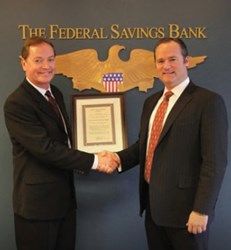 HUD has determined that in 2012, homelessness among veterans had declined 17.2 percent since 2009.
Chicago, IL (PRWEB) August 24, 2013
The Federal Savings Bank, an institution specialized in veteran home loans, recognizes recent positive efforts made by the Department of Veterans Affairs and the Department of Housing & Urban Development. A second round of housing vouchers has been released in an effort to reduce homelessness among veterans.
National Mortgage Professional Magazine reported the two agencies are committing a total of $60 million in housing assistance vouchers in 2013, with the most recent allotment of $7.8 million in HUD-Veterans Affairs Supportive Housing funding being released in August. That money will go to local agencies that provide clinical and housing services, helping 1,120 veterans stay off the streets.
"Our nation's veterans have sacrificed and given up so much for our freedom," said Shaun Donovan, secretary of HUD. "These vouchers are helping America end veterans' homelessness one veteran at a time until we see not one veteran living on the street. I look forward to continue working with Secretary Shinseki and the Department of Veterans Affairs to target assistance to our homeless veterans."
The challenge of ending homelessness
As a result of such funding, which began in 2008 with the Obama Administration's commitment to end chronic homelessness among veterans by 2015, the HUD-VASH vouchers have helped 43,371 veterans that were previously homeless locate permanent housing. HUD has determined that in 2012, homelessness among veterans had declined 17.2 percent since 2009. In 2012, there were 62,619 homeless veterans on a single night, and homelessness among veterans fell 7.2 percentk, with 4,876 finding housing by the end of the year. The goal is to reduce this number significantly.
"These HUD-VASH vouchers are a vital tool in our effort to provide these brave men and women with the earned care and benefits that help them live productive, meaningful lives," said Secretary of Veterans Affairs Eric Shinseki. "So long as a single veteran lives on our streets, we have work to do. But with the continued support of President Obama, Congress and our community partners, we will end homelessness among veterans."
With just 1,000 days left to achieve the goal of ending homelessness among veterans, Shinseki said the VA will need contributions from everyone to make it happen.
Contact The Federal Savings Bank, a veteran owned bank, to discuss VA home loan eligibility, obtaining a low cost mortgage and other home financing options.