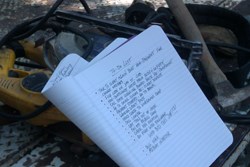 The Contractors, Tradesperson Survey bears evidence that men and women in the construction industry and late results are not optimistic
Los Angeles, Ca. (PRWEB) August 25, 2013
Results from Lee Dodson's Contractors, Tradesperson Survey, from the contractorside.com, reveals a small business industry facing permanent change, and not for the better. In the short span of twelve days since the survey was announced, more than 78,000 industry people responded, indicating a level of frustration heretofore invisible, by the struggling producers of necessary infrastructure.
Writing in national e-publication, The Brenner Brief, Dodson states that results of his questionnaire disclose an industry is in such disrepair that licensing boards, as well as building agency personnel, now cut staff to ten year lows. Statistics picture a construction industry as stagnant, in decline, worse off than economists predicted.
A looming second recession, second wave of foreclosures have little meaning to the members of the building industry, be they single family dwelling contractors, re-modelers, repair people, because this group has seen little improvement in their situation since the financial collapse in 2009 when construction dropped from a normal 24-27% of GDP to 3% of GDP. Late reports say current level is about 8% GDP, but true August figures are expected to be less than 4% GDP as new housing sales dropped by 13.7% in July, ARMS rose by 60% with an expected rise of high single digits in August.
Add to the grim economic numbers more onerous Federal and State regulations, NIMBY interests, local council demands, other restrictions, and construction projects from $10K to just under $1M labor under a 30% surcharge of state and local charges on top of material and labor costs. Going without mention are the investments of time and finance to acquire permits, plan checks, background checks, workers' compensation, liability, equipment insurance generally borne by both tradesperson and clientele.
There has also been a drastic alteration in clients who have been conditioned to the idea that people who work in the field are not of highest moral character. Courts, arbitrators, mediators view the general trade as less than desirables who ply the trade as scam artists. Trades people are generally in no financial shape to go to court to fight scurrilous claims, so they a relegated to a genuinely disadvantaged status.
The Contractors, Tradesperson Survey bears evidence that men and women in the construction industry and late results are not optimistic. Fully 100% of the 78,000+ respondents work, or worked, in the construction trade. The responses come in at the rate of 6,000 per day as of 8/23/13. Fully 90% are considering leaving the business permanently. There is little encouragement in sight. Once very stable trades persons' incomes have dropped by 60-70% in a short four years.
The contractorside.com's Dodson says, in an interview taped for radio program to be aired next week, "I want those in the trades to take the survey, look at their situation and to ask themselves what they can do to make a difference in the business. It's their business, and if they want to make it better, they have to do something, even if it's a small thing like letting other trades people know what they know. Like who's good and who's not from clients, to inspectors, officials, bankers…even designers. We are not powerless. The survey proves it. People are paying attention."
"Contractors, Tradesperson Survey has been seen by more than 100,000 news readers as of two days ago, and if these numbers translate to contractorside.com users, it becomes a powerful voice in dealing with those who have authority over us from government right down to clients. They have the ultimate power of the purse, regulation, courts, and we small business construction people need a platform."
"If we take the initiative by registering, filing comments, complaints or praise, where we see it every working day, they have to listen," Dodson says. "We have been separated from each other, and since bars and cafes are either unaffordable or no longer in style, we can put the information about who's okay or who's not okay on the contractorside.com. And this goes for anybody who's serious about making a livelihood from a really great way of life."
Dodson asks questions no one else asks in the survey. The answers touch on everything from personal strategies such as changing careers and borrowing money to professional judgments as to business problems. The owner does not pretend the results to be scientific, but he does say the answers provide an accurate view of the current status.
Results are more than enlightening.100% say business is far off from six years ago.
90% are not optimistic about near term work, 60% struggle.
96% consider changing careers.
91% have taken supplementary menial jobs.
68% are on government assistance of one form or the other.
54% cannot qualify for credit.
89% borrow from family or friends to make ends meet.
59% cannot afford insurance, could not qualify for ACA (Obamacare).
The most surprising survey response is that 80% are involved in a legal dispute over a project.
On the business side of the equation,1.6% think government can help reverse the down turn, but 81% think business can make it happen.
The contractorside.com survey went live twelve days ago. Due to the length of the survey, statistical results will be published weekly in articles on the home page.
Dodson describes the minimal comment fee as small enough to be easily affordable and enough to keep out trolls. "And it's equitable. If you put in the email of the person on whom you are commenting, they get a query asking if they want to answer, or if you want to post anonymously, you can," he grins. "If you're complimenting somebody, that auto e-mail will be impressive. Registration on the site and survey are free."
Dodson is currently writes and speaks on economic effects on the construction industry on radio as often as once a week.
323-243-0404
vndk8r(at)gmail(dot)com
http://www.skoshitiger.com/
Twitter: skshtgr11