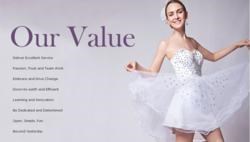 (PRWEB) August 25, 2013
DressyProm.com is the world's leading online retailer of women's dresses. The company is famous in the industry for its sexy prom dresses. Today, the company announces its special offer on all its sexy prom dresses (http://www.dressyprom.com/Sexy-Prom-Dresses), and the discount is up to 60% off.
At the website of DressyProm.com, people can see a large selection of sexy prom dresses, modest prom dresses and more for its customers. No matter what type of dress a lady is looking for, DressyProm.com can provide something she needs for her. All of the dresses are available for shipment if expenses are paid.
Moreover, the company allows clients to pay only for the dresses they want, so there is no ongoing financial commitment. The clients, who are typically fashionable women, have the option of making a custom design without any extra cost. The frequently updated website of DressyProm.com provides consumers with a great selection of products from various designers.
About DressyProm.com
DressyProm.com is one of the world's leading wedding dress manufactures and retailers, offering a wide range of unique prom dresses, modest prom dresses, wedding dresses, bridesmaid dresses, evening dresses, cocktail dresses, and more. The company aims to deliver ladies worldwide all kinds of dresses at acceptable prices.
More information can be found at: http://www.dressyprom.com