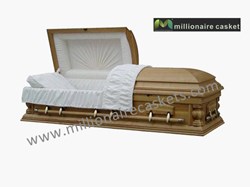 (PRWEB) August 25, 2013
MillionaireCasket.com, a leading casket online shop, is pleased to announce that they have a new line of metal caskets which are ideal for the casket distributors in the North America and the Europe, and the company is providing caskets wholesale for all its clients worldwide (see: http://www.millionairecasket.com/).
The requirements for caskets form different customers and countries are different. To provide assistance in these areas, Millionaire Casket can offer a wider range of casket products with various interior and exterior structure and decoration.
Beside metal caskets (http://www.millionairecasket.com/category/product/metal-casket/), the company provides a range of solid wood caskets, veneer caskets, cremation caskets, rental caskets, and orthodox caskets. This should ensure that there is an appropriate solution for every distributor around the world.
"The casket interiors are carefully treated to resist rust and corrosion. All our caskets are 100% manufactured with the high-quality craftsmanship and materials, and each one comes with a special locking system," says the CEO of the company. "From now on until Sept. 13, 2013, every distributor can get a special discount, up to 30% off if he says that he know the promotion from prweb.com."
MillionaireCasket.com hopes to be a one-stop funeral supplier. The company has invested much money in the technology which enables them to serve new markets and meet the international demand for all kinds of caskets.
About MillionaireCasket.com
MillionaireCasket.com is a leading China casket manufacturer (more details at http://www.millionairecasket.com), and focuses on the business of casket wholesale. Besides caskets, MillionaireCasket.com also makes and supplies urns, embalming tables, church trucks, stretchers and more.