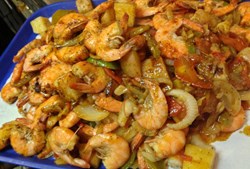 "We have never had a menu of set dishes. Every diner comes in and for the same price that you find in the market for uncooked seafood, we prepare it right there in front of you," said Mike Ungaro
San Pedro, CA (PRWEB) August 26, 2013
Southern California Ports of Call landmark San Pedro Fish Market and Restaurant is known throughout the region as the weekend destination where every diner gets to pick their favorite fresh seafood to be grilled for free dockside in an atmosphere driven by live music and the lively Ports of Call waterfront. Each year, the fun continues to grow to the point now where it is literally measured in tons of seafood that is over 100 tons of it this year alone.
"We've been selling seafood since 1957 and we've never seen volume like this. It's great, but admittedly a near 24/7 challenge to keep the quality up and the price a value for every hungry person that walks in," said Mike Ungaro, Vice President of San Pedro Fish Market. "It's awesome to see the turn out for our products from both the market and in stores across the Southwest and Hawaii now."
Attracting more than 10,000 diners a week so far, this year is a challenge when every dinner is different. Individual diners, often families of four or more, start at the market counter where they pick from shrimp, lobster, local caught fish and fresh fish flown in from around the globe. They then pick their favorite vegetables, and wait for it to be grilled for free dockside.
"We have never had a menu of set dishes. Every diner comes in and for the same price that you find in the market for uncooked seafood, we prepare it right there in front of you," explained Mike Ungaro. "It takes a lot of prep work, but obviously, people appreciate it and it's just plain fun. Calculating from our records and the number of diners served, we have officially served more than 100 tons of seafood this year. It's amazing just to think about that."
Generating a highly sought after review of 4 of 5 stars through over 200 reviews on Yelp, along with coverage that has ranged from the Food Network to specialty media, San Pedro's fans are also highly interactive on social media with the brand.
"Last week, on any given day we talk to over 30,000 fans on social media. We set out to sell the freshest ingredients we could find in a fun atmosphere and it's great to see how people have responded," said Ungaro.
For more information on San Pedro Fish Market and Restaurant, go to their Facebook page at http://ow.ly/ob0xa.
About San Pedro Fish Market & Restaurant
Founded in 1957, San Pedro Fish Market & Restaurant has grown into a top rated destination on the LA waterfront whose seafood, Lonely Planet described by saying, "Seafood feasts don't get any more decadent than at this family-run harbor-view institution." Routinely serving more than 10,000 diners each week, San Pedro Fish Market is also one of the most recognized brands in the frozen food section of premium and mass market supermarkets across the Southwest and Hawaii selling in four microwavable versions of our world famous shrimp tray. Just as at the restaurant and market, all ingredients are the freshest available and meant to be prepared and enjoyed directly in the kitchen with your favorite ice cold beverage. For more information, go to our website at http://ow.ly/obvmS.