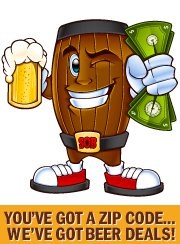 Beer drinking is one of the preferred pastimes of American college students.
Houston, TX (PRWEB) August 27, 2013
College students looking to improve their lives using technology will find a whole slew of new smartphone apps out this season. With upwards of 300 apps created daily, the choices can be staggering. SaveOnBrew.com – America's only search engine for local beer prices – breaks down a few of the coolest and most useful apps to try this semester.
Best Social App: BuzzMob
What it is: This app lets users connect to strangers based on location and shared experiences.
Why download it: "We liked this app because it takes shy dating to the next level," says SaveOnBrew's Mark Davidson. "With the 'nearby' tab, you'll never miss another beer festival or happening event again."
Best Practical App: SquareOneMail
What it is: This app alerts users to only the most important emails and allows for better sorting.
Why download it: "Let's face it: email inboxes are a hot mess," Davidson explains. "Now that email and smartphones are synched, it can be a real problem. No one wants to be sitting in Chemistry 101 with constant 'you've got mail' alerts chiming in. SquareOneMail makes it more manageable."
Best Security App: Manything
What it is: This James Bond-esque app lets users see what is going on in their rooms while they're out by turning an iPhone, iPod or iPad into a video monitoring camera.
Why download it: "Have you read the news lately? Spying is totally vogue right now," Davidson chuckles. "You can get in on the action to make sure your roomie's not snooping through your stuff while you're gone or maybe you can get a closer look at his new girlfriend."
Best Money-Saving App: PriceBlink
What it is: This browser add-on lets you know where you can find a product you're browsing cheaper.
Why download it: Davidson says, "This type of app is sort of a dime a dozen these days, but it's really enlightening if you've never used one before. We rely on the internet to save us money and this app makes the process effortless."
Best Lifestyle App: SaveOnBrew's Beer Price Finder
What it is: Users simply enter a zip code to access a list of local beer prices and retailers. They can also access maps to the nearest location selling beer, get alerts when their favorite brands go on sale, pull up beer reviews, and read a beer blog.
Why download it: "Beer drinking is one of the preferred pastimes of American college students. Yet, many students are wondering how they'll pay for their books and tuition each semester; so we help them save money on beer purchases and find beer retailers in what may very well be a new town."
For more awesome apps, visit the entire "must have" list at SaveOnBrew.Com.
# # #
About SaveOnBrew.Com: Founded in 2010 to help thirsty beer drinkers across the United States find the lowest advertised prices for one of the world's most popular beverages.