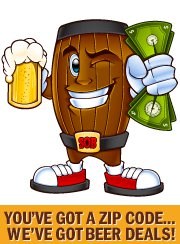 Sub-premium beers like Keystone, Natty Ice and PBR have seen the largest spikes in price, with double-digit increases in some markets.
Houston, TX (PRWEB) August 28, 2013
Savvy buyers know that prices are cyclical, that there is a time and a season to buy virtually everything. Consumers may not realize it, but beer prices are about to shoot upwards, warns Mark Davidson – founder of the beer price search engine SaveOnBrew.com. In fact, it's a trend that happens every year, he says.
"In 2011, beer prices inched up three to five percent on all Anheuser-Busch products," Davidson explains. "In 2012, they went up another five percent. Craft beer has also crept up by about 52 cents a case in 2011 and up another 1.8 percent last year. Sub-premium beers like Keystone, Natty Ice and PBR have seen the largest spikes in price, with double-digit increases in some markets."
There are several reasons that beer prices go up in the fall, according to SaveOnBrew's Beer Blog:

Hipsters: The cool factor of beer has some people paying as much as $85 for a six-pack of beer.
Economy: With the return of consumer confidence, prices rise. Summer spending spells prosperity.
Fiscal Year: Beermakers like to make a last-minute run at hitting sales projections before January.
Raw Materials: Wheat and barley prices tend to spiral upward in late August / early September.
Demand: The spell from Labor Day to St. Patrick's Day is dry for beer sales, so prices escalate.
Consumers have choices other than to pay the increased market price on beer. Recently, SaveOnBrew launched a helpful "Beer Alerts!" app, which lets users know when their favorite beer brands go on sale locally. Davidson recommends taking advantage of end-of-summer deals and stocking up to get through the winter.
"If you're an IPA fan, you may only make it to November or January at the latest, as the lighter beers don't typically store very long, retaining their freshness," says Davidson. "Of course, there are exceptions. Dogfish Head 120 Minute IPA gets better with age, surviving two years on the shelf."
"Beers with 8% ABV or higher and generally darker, maltier beers can easily survive until fall," he adds. "Stouts, barleywines and abbey ales make good candidates for a beer cellar. It's not unheard of for a gueuze beer to last well into the decades, aging like a fine wine."
Users can access the SaveOnBrew via home computer or mobile phone. From there, they can check out beer prices in a given zip code, sign up for "Beer Alerts!", peruse the Beer Blog, read beer reviews, and access maps to the nearest local beer retailers.
# # #
About SaveOnBrew.Com: Founded in 2010 to help thirsty beer drinkers across the United States find the lowest advertised prices for one of the world's most popular beverages.