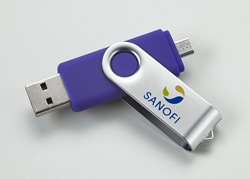 With this drive, your Android phone will never run out of memory when you are on the go.
San Francisco, CA (PRWEB) August 27, 2013
Americans love their smartphones. They can do practically anything on them: Capture memories with pictures and video, listen to favorite songs, watch new movies, open documents and spreadsheets, etc. They encompass all that the user is involved with both personally and professionally.
Because of their versatility, consumers tend to overload their phones. This requires the user to offload large amounts of data from their phone to free up space – but this can be challenging because it is necessary to connect to a computer to transfer the files. This means data can't be offloaded unless a computer is nearby. Or, the user is put in the position of having to make some harsh decisions about what stays and what goes.
Until recently, flash drives were only available for use with standard Type A USB ports found on most desk and laptop computers. But now, there's a flash drive available for smartphones. Introducing the Dual Connect Micro-USB flash drive from Qualitas Flash Drives. These drives are no bigger than your thumb but they can connect to Android, Galaxy, or other smartphones using a micro-USB port. Consumers can store up to 64 GB on these drives – and they're available right now from Qualitas Flash Drives (https://www.qualitasflashdrives.com/).
Talk about convenience. No longer will users need to lug around clunky, bulky laptops to a business conference so that they can download or upload data. They can simply plug in one of these OTG-compatible flash drives through their micro-USB connector and download or upload large amounts of data for clients.
This is also a great convenience when on vacation and running out of room for pictures and videos. The custom flash drive for smartphones can download images and video in minutes, freeing up space for more memories.
Brian Fisher, Founder and CEO of Qualitas, states: "We think the convenience of the micro-USB flash drive for Android smartphones is going to have a huge impact on businesses and vacationers alike."
"Because Qualitas is a small firm," Brian continues, "we are able to move faster than the big tech companies when it comes to a product like this. We will be offering several styles of these drives in 2013 and 2014. With this new drive, your Android phone will never run out of memory when you are on the go."
Qualitas Flash Drives is located in San Francisco and specializes in customized flash drives and data loading. So when it comes to a new data storage device like this, they know their stuff.
"Our business is fundamentally based on quality," says Brian, "We plan to bring our same high standards to these micro-USB flash drives."