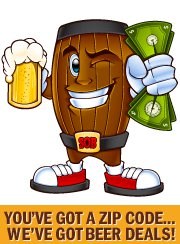 Houston, TX (PRWEB) August 29, 2013
Vinnie Cilurzo is one of the most well-known names in beer brewing today. The Wall Street Journal credited the Russian River Brewing Company founder with single-handedly inventing the Double IPA style of beer back in 1994. Since then, the brewer has won more than two dozen medals at the Great American Beer Festival and World Beer Cup. SaveOnBrew.com, America's only beer price search engine, recently interviewed Vinnie as part of their industry interview series, which runs every Tuesday on the award-winning SaveOnBrew beer blog.
In the interview, fans get an inside look at how a world-class craft brewer selects ingredients and maintains sanitization. "We have a color code system," Cilurzo tells SaveOnBrew. "Red buckets or anything taped with red tape is '100% funky', meaning both Brett yeast and bacteria. Blue is just Brett parts, and white is '100% non-funky.' Our long term goal is to have a separate 'funky facility,' but, for now, we have to do it under one roof."
He goes on to discuss the creation of the ever-so-popular Supplication beer, explaining that it was one of the more challenging beers to make because it had to be harmonious, yet it contained a rich palate of ingredients. "I created a malt and hop bill that leant to having some esters and residual sweetness for the Brett to work on," he explains. "In the barrel, the malt, hops, sour cherries, Brett, bacteria, and wine contribution from the wood all melded together with no one flavor being dominant. It was meant to be a harmonious beer, so this meant finding just the right amount of cherries to be added. In the end, when I tasted the first batch, it was everything I wanted it to be."
The interview also covers the amazing success of Pliny the Younger – one of the most highly coveted beers in the world, as well as upcoming RRBC news, favorite beers, Vinnie's background in the wine industry, and beer tourism in Santa Rosa. The full interview can be found on SaveOnBrew.
While guests are visiting the site to check out the interview, they can also benefit from SaveOnBrew's beer price search engine, which allows users to comparison-shop retail beer prices within their local zip codes. Consumers can also get maps to the nearest location selling their favorite beers, read beer reviews, and sign up for alerts that let them know when their favorite beers go on sale.
# # #
About SaveOnBrew.Com: Founded in 2010 to help thirsty beer drinkers across the United States find the lowest advertised prices for one of the world's most popular beverages.