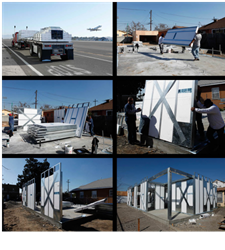 Habitat for Humanity recognizes that especially low-income dwellings can benefit from the 'net-zero effect' of the mnmMOD panel system.
Santa Monica, CA (PRWEB) August 27, 2013
Minarc, an award winning design studio and developers of the mnmMOD building solution, and Habitat for Humanity of Greater Los Angeles, a non-profit organization which strives to eliminate substandard housing through advocacy, education and partnership with families and individuals in need, announced a new project to develop affordable "net-zero" homes on lots in low-income communities throughout Los Angeles. Net-zero homes are designed to produce enough energy to meet all the power demands of the home.
The announcement took place during Dwell on Design, America's largest modern design event, at a private event for project partners, industry VIPs and the press nearby in Downtown Los Angeles. There, mnmMOD launched the new partnership and introduced the mnmMOD NetZero building solution, a high-performance, easy to assemble, factory-manufactured paneling system that will be used in the construction of each new home.
"We are so pleased to be partnering with Habitat for Humanity on this exciting new project," said Erla Dögg Ingjaldsdóttir, co-principal of mnmMOD. "The mnmMOD system has been used for many high-end projects. Habitat for Humanity recognizes, however, that especially low-income dwellings can benefit from the quality materials, sustainable features and 'net-zero effect' of the mnmMOD panel system."
Co-principal Tryggvi Thorsteinsson notes, "The mnmMOD panels are 'Made in America,' have been tested extensively by builders, are International Building Code-approved and have passed the City of Los Angeles Building and Safety Department's demanding standards. More importantly," Thorsteinsson adds, "they meet or exceed the price/performance points established by Habitat for Humanity and are remarkably easy to assemble. A typical structure can be built by as few as two workers with a screw gun."
"The mnmMOD system is quite impressive," said Steve Sferrino, VP Habitat for Humanity. "It allows us to offer a sustainable solution to our partner home owners that yields 'net-zero' efficiency—something that up until now we have not been able to achieve. In addition, we are able to dramatically reduce the manpower needed to frame each home. This alone makes this system a viable option for future Habitat for Humanity projects."
Developed by Minarc, award-winning architects focused on eliminating waste and exploring new efficiencies in building and design, mnmMOD panels incorporate high quality, off-the-shelf sustainable materials that have been researched, tested and selected to meet stringent quality specifications.
Builders benefit from mnmMOD's easy, rapid construction that replaces standard wood frame building techniques. Materials are prefabricated into precisely cut panels at the factory, then shipped to the site where they can be assembled in as little as eight hours by two workers. Even sub-time, such as electrical, plumbing and mechanical, is reduced because chases come pre-installed.
mnmMOD provides a simple tutorial that steps contractors through all phases of construction, with technical assistance available throughout the building process.
For more information about the mnmMOD system contact Erla Dögg Ingjaldsdóttir at erla(at)minarc(dot)com or call (310) 998-8899.
About mnmMOD
The mnmMOD paneling system (http://www.mnmmod.com) was developed by Erla Dögg Ingjaldsdóttir and Tryggvi Thorsteinsson, founders of Minarc, an award winning design studio located in Santa Monica, CA, in 1999. The mnmMOD solution is a high-performance factory-manufactured paneling system that eliminates on site-construction, yet allows architects and contractors to design and build dwellings in any form with standardized panel sizes. mnmMOD changes the building process, not design possibilities.
About Habitat for Humanity
Habitat for Humanity International (HFHI) was founded in 1976 by Millard and Linda Fuller and is headquartered in Americus, Georgia. The Greater Los Angeles affiliate of HFH was founded in 1990. Affiliates are local 501(c)(3) organizations of HFHI that direct house-building work in their own communities. There are 1,500 U.S. affiliates in all 50 states, plus more than 550 international affiliates in over 80 countries. Since 1976 HFHI has help built over 400,000 affordable homes and served more than 2 million people around the world. HFH GLA has built and rehabilitated more than 350 homes locally for families and individuals since 1990 and over 340 worldwide. Affiliates raise their own funds to build homes.