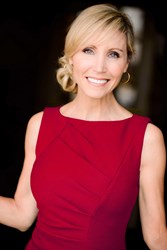 We're living in a world that demands perfection, yet craves authenticity. It's a leadership paradox. – Executive coach Connie Dieken
New York, New York (PRWEB) August 26, 2013
A new leadership study called The Presence Project from the newly released book "Become the Real Deal" reveals that despite the passage of time, Dr. Martin Luther King, Jr. remains a compelling example of leadership presence and influence because he combined three qualities:
1. Inner Presence: a steadiness based on a sense of purpose greater than yourself that doesn't rise or fall in response to people or situations.
2. Verbal Presence: the credibility to transform rhetoric into results by connecting, conveying and convincing others to follow.
3. Outer Presence: the agility to match your intentions with your impact so that others are drawn to you, trust you, and respect you.
Bestselling author Connie Dieken has spent a decade studying the root causes of why some leaders are able to influence consistently while others are episodic in their attempts. The Presence Project is the result of 3,500 interviews with leaders around the globe.
Dieken says the first quality that catapulted Dr. King to real deal status was inner presence. "Dr. King created a masterpiece on the fly because he was in the zone, centered on his values and a purpose greater than himself. I believe the sea of people inspired him to veer off-script. Any insightful leader can do this by aligning your values and purpose with your audience's values," says Dieken.
The study identifies verbal presence as the second quality. "Dr. King was both a wordsmith and a remarkable public speaker. Clearly, he had incredible communication skills. But surprisingly, eloquence is optional," says Dieken, a senior executive coach who helps leaders deliver influential presentations. "The key to verbal presence is to identify your ideal outcome before opening your mouth. What, specifically, do you want your audience to do or believe? Everything you communicate should erase doubt and drive your audience toward that outcome."
Outer presence is the third key. "Outer presence is not what you look like – it's how you make people feel. This is where the study results really threw me for a loop," says Dieken. "87% of the leaders in The Presence Project reported that people often misunderstood their intentions and responded poorly to them as a result. People frequently identified them as angry, disinterested, or snooty, even when they were not." Dieken says.
Dr. King's outer presence on the steps of the Lincoln Memorial on that hot August day in1963 was a welcome surprise to a tense White House. Combat troops were standing by, expecting violence. Martial law orders were waiting for President Kennedy's signature. But leaders of the March on Washington ensured a peaceful experience that day. Dr. King's demeanor was both calm and confident. As a result, his televised speech both made history – and changed it.
Today's leaders are faced with a 21st century paradox. "We're living in a world that demands perfection, but craves authenticity," Dieken notes. "People are impatient, impulsive, distracted and demanding. That's why it's crucial for leaders to be – and to be seen as – the real deal. Everything is at stake – your stability, credibility and likability. Combine inner, verbal and outer presence and, like Dr. King, you'll crack the code and become a leader known as the real deal."
Connie Dieken is an executive coach to senior leaders at the world's top brands. Before launching her coaching firm onPoint Communication LLC in 2000, she was a multiple Emmy Award-winning television journalist who was inducted into the Radio/Television Broadcasters Hall of Fame. A keynote speaker at major conferences around the world, she is also the author of the bestseller "Talk Less, Say More: 3 Habits to Influence Others and Make Things Happen." (Wiley)