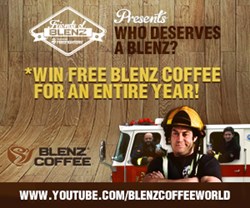 We wanted to honour our roots, and support local community members who give back!
Vancouver, B.C. (PRWEB) August 27, 2013
As originally reported on VanCityBuzz, BLENZ, The Canadian Coffee Company launched two YouTube commercials on August 21st, 2013 - offering customers a chance to win free coffee for an entire year.
Born and raised on Robson St. Vancouver, BLENZ has now become a global brand with locations in Japan and the Philippines. Known for their friendly Barista service, latte art, and a host of specialty drinks like Signature Shaken Iced Teas, BLENZ certainly has a unique position among the crowded coffee shop market.
In a cross promotion with the Vancouver Firefighter's Charitable Society, BLENZ launched these two commercials on YouTube for their 'Who Deserves A BLENZ?' campaign.
"We wanted to honour our roots, and support local community members who give back," says Mark West, GM of BLENZ Coffee.
In the commercials, BLENZ Coffee decided to honour Vancouver Firefighter's – who indeed deserve it.
In partnership with Stunt Buxx- Viral Media Marketplace, which is an innovative 'daily deal' platform that converges daily deal promotions with online video commercials, Stunt Buxx host, Crazy Mike, goes undercover as a Fireman into a local Vancouver BLENZ Coffee Shop, on the corner of Granville and Broadway, and in a hidden camera prank, tries to convince unsuspecting customers out of their drink order and into a BLENZ Signature Shaken Iced Tea.
The results are surprisingly funny.
In the second commercial, Crazy Mike is with two contestants who did indeed change their drink order, and are then faced with a major physical challenge at the Vancouver Fire & Rescue Training Centre.
Crazy Mike puts these two men into the very same challenge that every active duty Firefighter has to go through to become a full-fledged Firefighter. The course is obviously grueling, as you watch these two men grunt it out - barely finishing the race.
The contestant with the best time had $2,500 donated to the Vancouver Freighter's Charitable Society in his name on behalf of BLENZ, won a complimentary Signature Shaken Iced Tea for every active duty Firefighter in Vancouver, and for himself; free coffee for an entire year.
At the end of the second commercial, you can go over to the Stunt Buxx website for a chance to win FREE Coffee for a year – the contest is open to the public.
The contest details are simple. Take a short video on your smart-phone and upload it to the Stunt Buxx website, and in under 30 seconds, tell BLENZ about a hero in your community who you believe deserves a BLENZ.
The video entries will be reviewed by BLENZ management, and the most compelling story will win. Contest runs until Sept. 30th, 2013.
Also, anyone who shares these videos on the Stunt Buxx website, will receive a coupon in their email or on the mobile phone for 25% off their next Signature Shaken Iced Tea order.
"Call it experiential, call it guerrilla, but whatever you do today in advertising – it must be innovative. We are always looking to be as creative as possible with our campaigns and we were thrilled to pull this one off in support of such a worthy cause," says Ryan Paulson, Marketing Manager of BLENZ Coffee.
It will be interesting to watch if this clever online video campaign pays off for the Vancouver based coffee shop, and if it does, it will be a major wake up call for businesses not quite sure yet how to leverage the power of You Tube to engage with customers.
If nothing else, one lucky customer will win unlimited java for an entire year - enough said.
About:
Founded in Vancouver in 1992, BLENZ Coffee crafts premium handmade beverages using authentic ingredients by expertly trained baristas in our 62 British Columbia locations. For more information on our company, please visit us online at http://www.blenz.com, follow us on Twitter @blenzcoffee, or become a member of the Blenz Coffee community at http://www.facebook.com/BlenzCoffee.
At Blenz, "We love what you're drinking!"