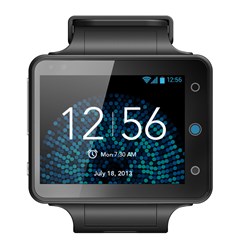 The Pine is easily the most versatile piece of wearable tech on the market right now.
Montreal, Canada (PRWEB) August 26, 2013
Neptune Computer Inc., a Canadian tech company based in Montreal, today announced that its much anticipated flagship product, the Neptune Pine, is now available for pre-order at neptunepine.com starting at a suggested retail price of $335. With unparalleled connectivity and an extensive set of features, the Pine does it all, without tethering to a smartphone. The Pine is expected to ship to the US and Canada in December of 2013.
The Pine smartwatch is in a class all on its own. First, it is a completely independent communications device. With the full power of the Android OS and support for 2G/3G*, Wi-Fi, and Bluetooth 4.0, the Pine can make and receive voice calls*, browse the web, check and respond to emails, Facebook posts, tweets, and text messages*– Bluetooth-tethering not required. The VGA front-facing camera lets users video chat with their friends and relatives directly from their wrist. The rear-facing 5-megapixel camera shoots crisp, still images and videos fast, in any lighting, with an LED flash. For user input, the full QWERTY keyboard coupled with Android's voice recognition capabilities make it easy to compose emails and search queries on the 2.4-inch QVGA capacitive touchscreen.
The Pine is also an extremely powerful fitness tracker. With built-in GPS, pedometer, and compass, it tracks steps, pace, time, laps, location, direction and calories burned. With the help of the included Neptune PulseCounter**, it becomes a real-time heart rate monitor. Additionally, the Pine handset can be attached to mounts or other accessories where it becomes a wearable, point-of-view (POV) video camera, shooting in 720p HD video with its rear-facing 5-megapixel camera.
With up to 32GB of mass storage, the Pine smartwatch can easily store and play thousands of songs, movies, TV shows and games. The built-in 3-axis accelerometer and gyroscope make it a perfect gaming device, and the powerful 1.2 GHz Snapdragon S4 dual-core processor*** gives the Pine more than enough speed and power to easily switch between multiple apps.
A premium matte finish, distinctive frosted-steel buttons, and a water-resistant casing all give the Neptune Pine its distinctive look. The tempered-glass face coupled with its 2.4-inch capacitive touchscreen allows the Pine to deliver information with unprecedented clarity and style. The 35 mm silicone wrist strap and the class-exclusive locking buckle make the Pine easy and comfortable to wear. The Pine is easily removable from its wrist strap, and can be attached to various mounts and accessories.
"The Pine is easily the most versatile piece of wearable tech on the market right now," said Aaron Wilkins, Neptune's Chief Technology Officer. "Technology has only recently reached the critical point where a device like this is not only technically feasible, but also elegant and practical."
The Neptune Pine comes in either jet black or polar white, and ships with the Pine handset, a Neptune wrist strap, a micro-USB charging and data cable, a USB power adapter, and a pair of Neptune stereo headphones. The Pine will begin shipping to the US and Canada in December 2013 at a suggested retail price of $335 for the 16GB model and $395 for the 32GB model. Pre-orders are now available at neptunepine.com.
*Requires compatible micro-SIM card.
**Only included with pre-orders. Will be sold separately starting December 2013.
***See all technical specifications at neptunepine.com/tech-specs.
About Neptune Computer Inc.
Neptune Computer Inc. develops innovative products that aim to enrich customers' lives through the power of technology, superior design, and compelling value. The Neptune Pine smartwatch, to be released in 2013, is the first of many consumer products to come. Based in Montreal, Canada, Neptune was founded by entrepreneur Simon Tian in 2012.